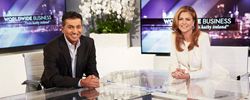 Winston Salem, NC; Pittsburgh, PA; Raleigh, NC (PRWEB) November 18, 2016
Tune in to Fox Business Network as sponsored programming and Bloomberg International on Sunday, November 20, 2016, 2016. See market-by-market listings below.
Worldwide Business with kathy ireland® announces an exclusive interview with Sanjay Chopra, CEO of Cognistx, a cognitive computing company that's transforming the customer buying experience with real-time, intelligent, individualized content and offers.
The interview will focus on driving transformational customer experiences using the latest technology –­ called cognitive computing. This new field lies at the intersection of data science, Big Data, advanced analytics, natural language processing and cloud computing to give companies unprecedented insight and create new revenue opportunities.
According to Chopra, "The retail industry is going through a massive shift. Customers are spending less, and shifting where they spend while retailers struggle with brick and mortar closures, data security concerns and elevated customer expectations. We're working with retailers to transform the way they interact with and understand individual customers, track trends, maintain inventory levels, analyze traffic patterns, leverage data and create loyalty."
To watch the segment, tune in to Fox Business Network as sponsored programming at 11:30am EST and Bloomberg International at 7:00am GMT, 10:00am D.F. and 2:30pm HKT on Sunday November 20, 2016.
About Cognistx
Cognistx is a cognitive computing company leveraging the latest data science tools and approaches to solve today's most complex business challenges. The privately-held company has offices in Pittsburgh, PA; Raleigh, NC; and Winston-Salem, NC. Their first cognitive-powered app for Monro Muffler & Brake, MotoManager by Mr. Tire, was recently released and is now available on the App Store and Google Play.
About Worldwide Business with kathy ireland®
Worldwide Business with kathy ireland® is a weekly business television program featuring real world insights from corporate executives from all over the globe which can be viewed on Fox Business Network as part of their sponsored programming lineup, as well as internationally to over 50 countries on Bloomberg International.
Visit http://www.tvwwb.com for detailed airing schedules or check local listings.