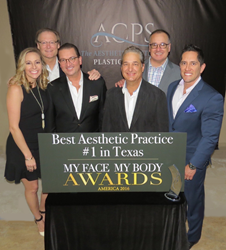 This award symbolizes the reputation ACPS surgeons and their team have built: a mindset for innovation and a reputation for excellence.
Houston, Texas (PRWEB) November 21, 2016
The Aesthetic Center for Plastic Surgery (ACPS) was named the Best Aesthetic Practice in Texas and the nation's 5-state south central region at the 2016 My Face My Body Awards in Beverly Hills, California. An elite international judging panel awarded ACPS the honor, further establishing the Houston-based group's status as one of the top premier cosmetic plastic surgery practices in the United States. ACPS's six plastic surgeons include Dr. Christopher Patronella, Dr. Henry Mentz, Dr. German Newall, Dr. Paul Fortes, Dr. Rolando Morales, and Dr. Kristi Hustak.
Practices across the nation submitted entries for the award; the judging panel determined the winners based upon criteria including evidence they are at the forefront of their industry, the customer service they provide, and the technology and procedures they offer. Journalist and ACPS Communications Director Sherri Roberts wrote ACPS's award-winning entry, which detailed the extensive list of techniques ACPS's six surgeons have developed as well as their superior customer service, among other factors, that have established the group as one of the best in the world.
Doctors and leaders in the aesthetic industry from around the world gathered at the prestigious awards event, which is also conducted in the United Kingdom and Australasia. The My Face My Body Awards recognize plastic surgeons and dermatologists for their "exceptional experiences and outstanding service to their patients," And it also celebrates treatments and products which demonstrate innovation and success within the aesthetic industry. Other award categories included: Best Body Reshaping Procedure, Most Innovative Treatment, Most Innovative Product, Best Anti Aging Treatment and Best Professional Skincare Range. The awards event is attended by more than 300 leading medical professionals, brands, journalists and celebrities.
ACPS surgeons perform a total of more than 6,000 face, breast, and body aesthetic surgical procedures a year — a testament to the group's finesse in blending artistry with surgical precision, advanced technology and research in a caring environment. They offer the most advanced surgical and nonsurgical procedures to aesthetically improve all areas of the body. Their work has been published in numerous plastic surgery journals and textbooks, and they've presented their expertise at hundreds of plastic surgery conferences in more than 30 countries.