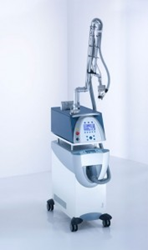 "Many current cosmetic procedures fail to restore skin in these delicate areas because of the heightened sensitivity," Dr. Sadati says. "However, the precise laser tool can be used safely and effectively, even in the most sensitive regions."
Newport Beach, CA (PRWEB) December 04, 2016
Patients who wish to gain a more youthful appearance without undergoing major cosmetic surgery can now take advantage of a cosmetic procedure known as Carbon Dioxide (C02) Fractional Laser Resurfacing. This is an advanced skin rejuvenation treatment that reduces the appearance of age spots, fine lines, uneven coloration, wrinkles, scarring, skin laxity or textural irregularities while stimulating the production of collagen. CO2 Fractional Laser Resurfacing is a great option for those wishing to get the best results with a single non-invasive procedure.
Dr. Kevin Sadati expertly performs this cosmetic procedure using a state-of-the-art fractional C02 laser tool. This advanced tool revitalizes the patient's face through advanced laser technology. During the procedure, short, pulsating beams of light are applied to damaged areas of skin. This will ultimately remove the damaged or aged skin, allowing fresh, new skin to come to the surface. Dr. Sadati points out that laser resurfacing is effective on all areas of the face, but especially on the most sensitive areas such as the creases of the eyes. "Many current cosmetic procedures fail to restore skin in these delicate areas because of the heightened sensitivity," Dr. Sadati says. "However, the precise laser tool can be used safely and effectively, even in the most sensitive regions."
Because CO2 Fractional Laser Resurfacing is a non-surgical procedure, the recovery is short and relatively pain-free. There is typically some redness, swelling and irritation which may last an average of 5 to 7 days and often described as feeling like a bad sunburn. Patients could also experience scabbing on treated areas as the skin heals.
Dr. Kevin Sadati is now offering a special for this popular procedure to previous face lift patients. Patients can purchase a full face laser treatment by December 31, 2016 for a discounted rate to be used by January 31,2017. Full facial treatment is usually priced at $5,500 but is now $2,750. Patients also have the option to add additional areas at a discounted price. For example, chest is being offered at $1000 and neck or hands for $500. In addition to these great offers, patients who purchase the laser special will also receive a skin care preparation package.
At the Gallery of Cosmetic Surgery, Dr. Sadati is continuously applying techniques and procedures like CO2 Fractional Laser Resurfacing to ensure he offers the most efficient and least complicated way for patients to achieve their desired results. For over a decade, Dr. Sadati has performed thousands of facial plastic and reconstructive surgeries at the Gallery of Cosmetic Surgery. Due to his expertise, he has been involved in the creation and certification of a number of minimally invasive new techniques for cosmetic surgery all performed under local anesthesia, without the need for general anesthesia. One of his most popular developments is his breakthrough facial muscle tightening technique called the "Double C" Plication. This revolutionary technique is used in lower face and neck lift procedures to provide patients with longer lasting and far more natural looking facelift results than traditional facelift techniques. For more information about Dr. Kevin Sadati, visit http://www.orangecountyfacialplasticsurgeon.com