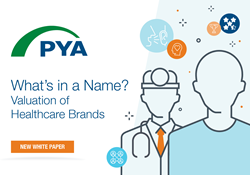 Building a strong brand and maintaining its relevance in the market involves sustained investment and strategic positioning.
Knoxville, TN (PRWEB) December 08, 2016
A new white paper from PYA, "What's in a Name? Valuation of Healthcare Brands ," outlines the importance of branding within the healthcare industry to increase reputational strength and realize greater levels of profitability.
With the rise of value-based reimbursement models, hospitals must jockey for opportunities to participate in provider networks—those opportunities will be critical. Physician groups will find hospitals with stronger brands more attractive. Healthcare organizations are exploring a variety of ways to monetize their brands, and numerous small providers are seeking affiliations with larger organizations.
PYA's white paper outlines the advantages of robust branding. It explains the factors that influence brand strength; provides examples of organizations that have successfully leveraged their brand's value; and explores methodologies, calculations, and considerations for brand valuation.
According to the paper, "Building a strong brand and maintaining its relevance in the market involves sustained investment and strategic positioning. While consumers may not be willing to pay more to be treated at a healthcare facility with a distinguished brand, the choice of where they would seek care is affected by the perception of quality embedded within the entity's brand. Hence, in an environment where there is significant competition for medical services, strategic investments that improve brand awareness are critical to ensure continued relevance of health systems within their community."
PYA's Brand Valuation Team can help health systems, academic medical centers, and other healthcare providers evaluate value as they apply their well-developed brands to various forms of partnerships including affiliations, joint ventures, and transactions. From AMCs applying their name and expertise to improve community cancer programs to orthopedic physician groups with a strong brand value due to long-standing partnerships with major sports teams, we can help evaluate various arrangements in the context of fair market value. Myriad factors influence a health system's value proposition, and the PYA team is experienced in understanding and accounting for the interdependence of these factors and their influence on branding and brand value.
---
About PYA
For over three decades, PYA (Pershing Yoakley & Associates, P.C.), a national healthcare consulting firm, has helped clients navigate and derive value amid complex challenges related to regulatory compliance, mergers and acquisitions, governance, business valuations and fair market value assessments, multi-unit business and clinical integrations, best practices, tax and assurance, business analysis, and operations optimization.
PYA's steadfast commitment to an unwavering client-centric culture has served the firm's clients well. PYA consistently is ranked among the Top 20 healthcare consulting firms in the U.S. by Modern Healthcare. PYA affiliate companies offer clients world-class data analytics, professional real estate development and advisory resources for healthcare providers, comprehensive claims audits for self-insured Fortune 500 companies, wealth management and retirement plan administration, and business transitions consulting.
PYA assists clients in all 50 states from offices in Atlanta, Kansas City, Knoxville, Nashville, and Tampa. For more information, please visit http://www.pyapc.com.