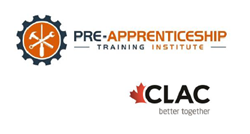 Cambridge, ON (PRWEB) November 18, 2016
Pre-Apprenticeship Training Institute (PAT) – Cambridge Is pleased to announce the opening of our new facility, in partnership with the CLAC.
Located at 45 Commerce Court, the new 60,000ft training facility serves as the Cambridge location for the PAT Institute, and the Canadian Head Office for the CLAC. The impressive complex, which cost around $15 million, was financed by CLAC members and largely built by them as well. PAT and CLAC have a long standing partnership of working together to ensure the success of PAT students and graduates.
"We are very excited about the new building", says PAT President, Emidio D'Alfonso. "It gives us the space and top of the line equipment that we need to help PAT graduates stand out."
The CLAC is one of the fastest-growing unions in Canada and provincial CLAC director, Hank Beekhuis, expects the new facility to become the busiest union training centre in southwestern Ontario.
The PAT Institute offers a variety of Pre-Apprenticeship training in many different areas of construction, and safety training programs, including Working at Heights.
Students interested in applying for Pre-Apprenticeship or safety training programs at PAT Cambridge are encouraged to contact the campus and speak with an Admissions Advisor at 1-800-728-0137 or visit http://www.patinstitute.ca for more information.