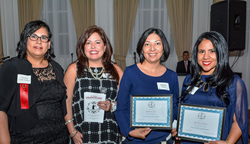 (PRWEB) November 17, 2016
Givens Givens Sparks attorney Victoria Cruz-Garcia awarded two scholarships in her name at the 10th annual Tampa Hispanic Bar Association (THBA) gala dinner and ceremony held on November 3rd at The Palma Ceia Golf and Country Club.
A principal attorney at Givens Givens Sparks and past president of the THBA, the THBA honored Cruz-Garcia by creating a scholarship in her name in 2014. The 'Cruz-Garcia Scholarship' is for current students in a Florida law school who have demonstrated excellence in academics, shown a strong record of service to their community, and have expressed a desire to remain in or return to the Tampa Bay area following completion of their legal studies.
Now in its third award year, the THBA Board of Directors has awarded the Cruz-Garcia scholarship to two exceptional recipients; Pamela Cordova (Stetson University College of Law) and Barbara Perez (Florida A&M University College of Law).
"I believe that we all have a responsibility to engage with our community and extend our services as attorneys to those who may not have the resources or the voice to reach out," said Cruz-Garcia. "These incredible women have demonstrated a dedication to their respective communities that has been impactful beyond measure."
Cruz-Garcia represents clients in all facets of family law matters including divorce, child custody, alimony and support actions, as well as enforcement matters. A Stetson College of Law graduate and Rutgers University undergrad, she was the recipient of the '2015 Luis Cabassa Award' by the THBA, was named to the Rising Stars℠ list by "Super Lawyers®" in 2012, 2013 and 2014, and was awarded the Tampa Hispanic Heritage Trailblazer Award in Education in 2014, and the WMU Cooley Law School 'Great Deeds' award in 2013. Cruz-Garcia is currently an adjunct professor at WMU Cooley Law School where she teaches courses on 'Family Violence and Florida Juvenile Dependency and Delinquency.' She is also the co-chair of the Awards Committee for the Hillsborough Association for Women Lawyers and was appointed to the Florida Bar Association Diversity & Inclusion Committee as well as the Judicial Nominating Procedures Committee.
"Victoria is an incredible asset to our firm," said managing partner, Robert Sparks. "The fact that she can manage such devoted participation in our community, while also pursuing relentless efforts for her clients and making her own children and family life a priority, is a testament to Victoria's high moral and ethical standards."
Givens Givens Sparks is a trial law firm representing individuals and their families in state and federal cases ranging from personal injury and wrong death actions, to commercial insurance litigation and complex high net-worth divorce cases. With more than 135 years of combined professional experience, the Givens Givens Sparks team of lawyers is dedicated to the advocacy and protection of their clients and their families. To learn more about Givens Givens Sparks, please visit: http://www.givenssparks.com.
###
Contact:
September Wilkerson | Marketing
Mobile: (904) 563-4036
Telephone: (813) 251-6700
Toll Free: (800) 716-6206
Facsimile: (813) 251-4542
Email: September(at)givenssparks(dot)com
Website: http://www.givenssparks.com