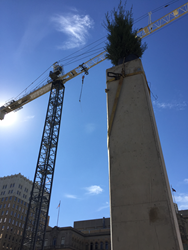 Fort Worth, TX (PRWEB) November 17, 2016
Today, Adolfson & Peterson Construction (AP) hosted a "topping out" event to commemorate reaching the final height for a new parking garage, named Cowtown Place, which is located adjacent to Sundance Square in Fort Worth.
JLL is serving as the program manager and Woodbranch Investments is serving as the developer on this project, which includes a 312,500SF, 9-level structured parking garage with 26,000SF of "white box" retail space. Walker Engineering is the Architect of Record. The aesthetics of the parking garage have been carefully planned to meet the guidelines of the Fort Worth DDRB (Downtown Design Review Board).
Construction began in February 2016 with final completion anticipated in the 2nd quarter of 2017.
About Adolfson & Peterson Construction
Adolfson & Peterson Construction (AP) is a U.S.-based, privately held firm that is consistently ranked among the top 50 construction managers and general contractors in the nation. Founded in 1946, the company has built longstanding commitments to the regions in which it operates and is known nationally for its innovative and collaborative approaches within the building industry. AP serves the education, multifamily, healthcare, energy, commercial, municipal and senior living market segments from its offices in Charlotte, Dallas, Denver, Minneapolis, and Phoenix. For more information, visit http://www.a-p.com and follow us on Facebook, LinkedIn and Twitter.
About Woodbranch Investments
Woodbranch Investments is a private real estate and investment concern with holdings throughout the United States.
About JLL
JLL is a financial and professional services firm that specializes in commercial real estate services and investment management. 58,000 employees across 230 corporate offices worldwide serve the local, regional and global real estate needs of corporates and investors in more than 80 countries. JLL delivers integrated commercial real estate services built on insight and foresight, sound market research and relevant knowledge.