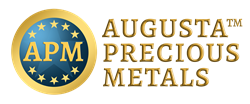 Augusta Precious Metals Earns 98% 5-Star IRA Gold Reviews at Trustlink.org
Los Angeles, California (PRWEB) November 21, 2016
Augusta Precious Metals, a recognized leader in the gold IRA industry, announced it has accumulated more than 200 positive client reviews at the respected customer review website, Trustlink.org, with more than 98% of the customer satisfaction reviews including customers' selection of five stars to indicate the high quality of the company's gold IRA services.
Augusta Precious Metals Gold IRA Reviews
"We are thrilled to receive this confirmation that our efforts are being recognized by those who matter most—gold IRA investors who have trusted us to help them protect their retirement savings," said Isaac Nuriani, Augusta Precious Metals president, CEO and founder. The Nuriani family has made gold and silver its business for more than 40 years. On the Augusta Precious Metals website, the company claims its quality customer service is the result of a commitment to the Golden Rule: "Treat people the way you want to be treated – like family."
Additional Evidence of Positive Reviews for Augusta Precious Metals
Augusta Precious Metals provides further evidence of positive customer satisfaction with high ratings by some of the market's most respected consumer reviews organizations. The company has earned the Better Business Bureau's A+ rating, as well as a AAA rating from the Business Consumer Alliance.
Nuriani is a member of the Industry Council of Tangible Assets (ICTA), and Augusta Precious Metals is a member of and/or subscribes to the standards and principles of the following organizations:

Augusta is an industry-recognized Professional Coin Grading Service (PCGS) authorized dealer
The company abides by the coin grading standards of the Numismatic Guaranty Corporation (NGC)
Augusta is a member of the National Ethics Association
The Augusta Precious Metals website lists three service commitments Nuriani says underscore the company's commitment to quality gold IRA service and he believes contributed to the positive reviews at Trustlink.org: 1) transparency, 2) customized portfolio creation, and 3) simplicity. Augusta Precious Metals pre-selects the most recognizable gold and silver coins from a broad market of more than 5,000 gold and silver choices for precious metals IRAs.
Elements of Best Gold IRA Services
According to Nuriani, the key to providing quality gold IRA services in a volatile gold and silver market is keeping the focus on integrity and quality that specifically meets the needs of gold IRA clients.
"If you read the gold IRA customer reviews at Trustlink, you'll see what I mean by that," Nuriani said. "Unfortunately, this market contains gold IRA organizations that do not necessarily have the customer's best interests in mind. It is our greatest pleasure to provide service to our IRA gold customers that truly meets their retirement investment needs, and gives them peace of mind that they are doing something positive to protect their future."
The company's flagship product is the Augusta™ Gold IRA, a self-directed IRA allowed by the U.S. Tax Code. Gold IRA clients set up a self-directed IRA account with the help of a specialized custodian. Then they move funds from any existing retirement account to the new custodian. The funds in the new self-directed IRA are used to purchase gold and silver from Augusta Precious Metals, as well as other selected precious metals allowed by the United States Internal Revenue Service.
Precious metals, including gold and silver (the most popular precious metals products for IRA investors) are then sent to an approved non-government depository storage facility. The gold IRA client can choose a location in one of several U.S. cities and at least one location in Canada, where they can arrange to actually see, touch and hold their gold or silver if they would like to.
"One of the best things about this type of gold IRA is that clients who are worried about the economy can actually work through their custodian to go pick up their gold or silver in the event of a personal disaster, as well as in the unlikely event of a national or global disaster," Nuriani said. He emphasizes that IRA rules and penalties for early withdrawal apply to the Augusta Gold IRA, as they do to any other type of Individual Retirement Account under the law.
Nuriani said Augusta Precious Metals will continue to work hard to maintain its 98% five-star customer review status when it comes to gold IRA reviews. "I know this is one of the best ways to prove to our clients they are making a good decision when they allow Augusta Precious Metals to provide gold and silver IRA products and services to help protect their savings," he said.
ABOUT AUGUSTA PRECIOUS METALS
A thought leader and respected provider of gold, silver and other precious metals products, including gold IRAs and silver IRAs, Augusta Precious Metals is committed to helping Americans protect their hard-earned assets by making the gold and silver buying process affordable, easy, and personal. The Nuriani family has thrived in the gold and silver business for more than 40 years, providing high integrity, knowledgeable and friendly personal service, and the industry's lowest prices. Read the company's more than 98% five-star reviews at Trustlink.org. Learn more about Augusta Precious metals gold IRA products and services at Augustapreciousmetals.com.