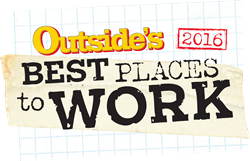 At IDX we take pride in [work/life] balance and encourage our employees to spend good quality time doing what they love with their friends and family.
Eugene, OR (PRWEB) November 22, 2016
We are proud to announce that IDX Broker has, once again, been named as one of Outside's Best Places to Work 2016. Each year, Outside recognizes the top 100 companies in the United States that help their employees strike the ideal balance between work and play. These companies encourage employees to lead an active lifestyle, are eco-conscious, and prioritize a family friendly environment.
"As a tech company headquartered in Eugene, Oregon it's easy for us to have a great work/life balance. At IDX we take pride in that balance and encourage our employees to spend good quality time doing what they love with their friends and family; work hard, play hard rings true here! Because Eugene is located directly in between the Coast and the Cascades, it makes it easy for employees to take advantage of that every day", says Chad Barczak, CEO at IDX, LLC.
"This year's list of Best Places to Work highlights employers who go above and beyond for their staff," said Outside Online Editor Scott Rosenfield. "Included are organizations that emphasis a healthy work life balance and promote, encourage and reward employees to live active and healthier lives."
To create the best places to work 2016 list, Outside started by comparing employers to five core categories, reflecting the magazine's values and focus: Adventure/Travel, Wellness, Culture, Gear, and Media. Outside then conducted a rigorous vetting process in partnership with the Best Companies Group to assess the policies, practices, and demographics of hundreds of companies.
Powered by employee workplace reviews and taking into account factors like corporate culture, job satisfaction, work environment and overall employee engagement, the Best Places to Work list represents only the top companies that are not only empowering but also encouraging their employees to live better, healthier and more active lives.
IDX Broker prides itself on fostering an "intrepreneurial" culture where workers are free to fail within a collaborative environment. Staffers are encouraged to join bowling, dodgeball, and soccer leagues and often find themselves at the company-owned barcade three blocks from the office. Interested in joining our team? Visit our IDX Culture and Careers pages to learn more.
About IDX, LLC
Based in Eugene, Ore., IDX, LLC is nationally known as a leading provider of real estate search applications. IDX, LLC actively manages more than $2 trillion worth of active listing data from more than 660 individual Multiple Listings Services (MLS). IDX, LLC provides integrated IDX software, customizable listing search utilities and lead management tools for real estate based websites. In addition to the primary web-based software, IDX also provides an integrated WordPress widget for use in WordPress based blogs and websites (IDX Broker Wordpress Plugin ), as well as HTML Mobile Optimized Pages for all mobile devices. The entire suite of real estate software available from IDX is easy to manage and maintain and helps real estate professionals display real estate data from their MLS regardless of their technical ability. For more information on all the services provided by IDX, LLC, please visit http://www.idxbroker.com.