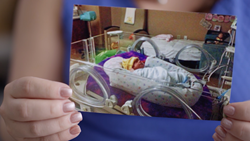 The whole interdisciplinary team stays connected with Voalte.
Sarasota, Fla. (PRWEB) November 18, 2016
Voalte, the leader in healthcare communication technology, released a video of a mother sharing first-hand the benefits of Voalte smartphones during her pre-term delivery and throughout her daughter's care. The video was released at VUE16, the Voalte User Experience conference, at the Hyatt Regency Sarasota. Set in the Neonatal Intensive Care Unit (NICU) at Sarasota Memorial Health Care System, the video tells the story of the baby and the nurses who cared for her throughout a 46-day hospital stay. It also shows how care teams rely on Voalte smartphones to ensure patient safety, improve care collaboration and enhance the patient experience. Using Voalte communication solutions, NICU nurses relate how they communicate efficiently and keep close tabs on their most vulnerable patients via voice calls, secure texting, and alarm and alert notifications.
To view "Patient Spotlight: Avery's Story," visit https://www.voalte.com/averys-story
"I think without Voalte our nursery wouldn't run as well as it does," said Heike Bucken, Clinical Nurse Educator in the NICU at Sarasota Memorial. "The communication is between physicians, pharmacists, nutritionists and respiratory therapists. The whole interdisciplinary team stays connected with Voalte."
Voalte is the leader in deploying smartphone solutions for healthcare organizations. By using the dynamic Directory in Voalte Platform™, the entire care team sees a real-time view of the entire staff, making it easy to access and send critical information to the right person instantly.
As neonatal units follow the trend away from large, open-bay units to single-patient rooms, nurses and other caregivers need a way to communicate via phone calls and secure text messages, while staying connected to the babies in their care. With the Voalte communication platform, pertinent and actionable alarms are sent to the appropriate nurse's smartphone from patient monitors via alarm middleware, and forwarded quickly to a backup caregiver if that nurse is not immediately available. Nurses also receive nurse call alerts directly on their smartphones, so they can respond quickly to a family member who needs assistance.
"Voalte is proud to deliver life-changing safety, communication and productivity solutions for forward-looking healthcare organizations across the United States," said Adam McMullin, Voalte Chairman and CEO. "As this new video shows, hospitals that use our clinical communication solutions can meaningfully improve patient outcomes, operational performance and the patient experience."
Voalte also released two Customer Spotlight videos featuring Avera Health of South Dakota and TIRR Memorial Hermann of Texas. See https://www.voalte.com/resources/interactive/.
About Voalte
Voalte develops smartphone solutions that simplify caregiver communication. As the only company to offer a comprehensive Mobile Communication Strategy, Voalte enables care teams inside and outside the hospital to access and exchange information securely. Voalte customers benefit from a solid smartphone infrastructure that supports their existing systems and expands to accommodate future technologies. Founded in 2008, Voalte is a privately held company based in Sarasota, Florida. Voalte solutions are now available to more than 132,000 caregivers throughout the United States. For more information, visit voalte.com or follow @Voalte on Twitter.