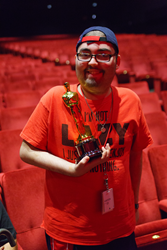 Hollywood, CA (PRWEB) November 18, 2016
Make a Film Foundation Grants Film Wishes (MAFF) to children who have serious or life-threatening medical conditions by teaming them with film industry professionals who help them to create short film legacies. MAFF is currently in production of THE BLACK GHIANDOLA written by Anthony Jonathan Conti with Scott Kosar (Texas Chainsaw Massacre) and additional writing by Wash Westmoreland (Still Alice). Anthony was diagnosed with stage 4 Adrenal Cortical Cancer in July. MAFF is making Anthony's dream of writing and starring in his own film a reality. THE BLACK GHIANDOLA is a story about a young man risking his life to save a young girl he has grown to love, after his family has been killed in the Apocalyptic world of Zombies.
Hollywood has come in full force to make Anthony's dream a reality. It is a completely Volunteer production. Those donating their time include: Actors: Johnny Depp (Pirates of the Caribbean); Academy Award Winner- J.K. Simmons (Whiplash); Laura Dern (Jurassic Park); Penelope Ann Miller (Birth of a Nation); Chad Coleman (The Walking Dead); Richard Chamberlain (Thornbirds); and an appearance by Writer/Director- David Lynch. Directors: Catherine Hardwicke (Twilight); Theodore Melfi (Hidden Figures); Sam Raimi (Spiderman Trilogy). Supervising Producers: Peter Farrelly (There's Something About Mary) and Sean Furst (Daybreakers). Producers: Tamika Lamison, Adele Rene, Bettina Fisher. The film shoots Nov. 18th-20th.
In addition to creating a film, Anthony visited the Academy of Motion Picture Arts and Sciences, took a photo with an Oscar and screened a previous short film he created at the Samuel Goldwyn Theatre. His growing list of Face-times, Fans and phone calls include: Spike Jonze, Dylan McDermott, Bruce Davison, Ben Affleck and cast members of The Walking Dead' including Andrew Lincoln (Rick Grimes) and Chad Coleman (Tyreese). For more information or to donate visit: http://www.makeafilmfoundation.org Contact: Founder/Exec. Director: Tamika Lamison 323-273-9954.