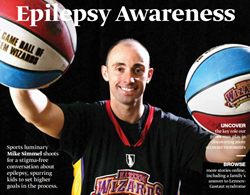 Limits will not define you. You will define your limits.
(PRWEB) November 18, 2016
"Epilepsy Awareness," released today, sparks a conversation during National Epilepsy Awareness Month, bearing down on the social stigma surrounding seizures and the future of epilepsy treatment while offering patients a newfound hope after diagnosis.
One in 26 people will be diagnosed with epilepsy within their lifetime. With such a large percent of people affected, it's critically important that physicians are able to make an accurate diagnosis in order to provide a targeted, personalized treatment plan. Unfortunately, over 30 percent of patients do not respond to any available epilepsy drugs, making research and new technologies essential to improve people's quality of life.
Mike Simmel, sports performer for the Harlem Wizards, graces the cover of the print campaign. On achieving his sports dreams despite epilepsy, Simmel says: "Limits will not define you. You will define your limits."
The print component of "Epilepsy Awareness" is distributed within the Friday, November 18 regional circulation of USA Today's weekend edition, with a circulation of approximately 290,000 copies and an estimated readership of 870,000 in the New York, Los Angeles, Detroit, DC/Baltimore and Houston markets. The digital component is distributed nationally, through a vast social media strategy, and across a network of top news sites and partner outlets. To explore the digital version of the campaign, click here.
This edition of "Epilepsy Awareness" was made possible with the support of the Epilepsy Foundation, American Epilepsy Society, Danny Did Foundation, Dravet Foundation, Zogenix, Angelman Syndrome Foundation, Ovid Therapeutics, Courtagen, Brain Sentinel, Neuropace, Pairnomix, GW Pharmaceuticals, LivaNova, UCB, Henry Ford Health System, University of Maryland Medical Center and many more.
About Mediaplanet
Mediaplanet is the leading independent publisher of content-marketing campaigns covering a variety of topics and industries. We turn consumer interest into action by providing readers with motivational editorial, pairing it with relevant advertisers, and distributing it within top newspapers and online platforms around the world.