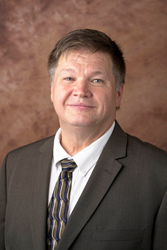 His distinguished service to this institution over three decades includes roles in virtually every division on campus.
Harrogate, Tennessee (PRWEB) November 18, 2016
The Lincoln Memorial University (LMU) Board of Trustees has voted unanimously to appoint Provost and Vice President for Academic Affairs E. Clayton Hess as the University's 21st president. Hess will succeed Dr. B. James Dawson on July 1, 2017, following a semester-long transition period.
"LMU is very fortunate to call Dr. Hess as its next president," Dawson said. "His distinguished service to this institution over three decades includes roles in virtually every division on campus and gives him tremendous institutional knowledge. He also brings a unique world view in higher education from his service on site visit committees for the Southern Association of Colleges and Schools Commission on Colleges (SACSCOC). He has been on the front line of LMU's remarkable growth, chairing or serving on the planning committees for the DeBusk College of Osteopathic Medicine (LMU-DCOM), Duncan School of Law (LMU Law), Physician Assistant Program and the College of Veterinary Medicine (CVM)."
Hess has served as the University's provost since 2015 and the vice president for academic affairs since 2010. He has taught as an adjunct faculty member at LMU and was the founding chair of LMU's Institutional Effectiveness Committee. Hess has served on the President's Cabinet twice during his career; first from 1998-2001 and again from 2010 to the present. He chaired the University's successful SACSCOC reaffirmation of accreditation from 2006-2009 and is poised to lead LMU through its next 10-year site visit.
"When we started this search process we knew we would be looking for an innovative leader with a clear vision of how to navigate the changes that are coming in higher education," said Dr. Brian DeBusk, LMU trustee and chair of the presidential search committee. "Once we identified Dr. Hess as a candidate, there was a groundswell of support both internally within the board and externally from higher education leaders across the country. It became clear that we didn't have to look far for our next president."
Hess has guided LMU's growth at all levels, chairing multiple committees responsible for substantive change proposals to initiate new extended learning sites offering associate, baccalaureate, post-baccalaureate, graduate and professional degree programs. He chaired the committee responsible for degree level accreditation change from Level IV to V to pave the way for LMU-DCOM and from Level V to VI for subsequent professional programs including LMU Law, the doctorate in education and CVM. He has assisted LMU faculty in preparing successful reports for initial and/or continuing accreditation by several professional accreditation associations/agencies.
Hess coordinated LMU's strategic planning and institutional effectiveness processes for more than 10 years and has chaired the University's general education committee. Prior to becoming provost and VPAA, he was assistant vice president for academic affairs for planning and accreditation and was responsible for monitoring compliance with accreditation/approval requirements of several state and federal agencies/associations and conducting on-going efforts to assess the effectiveness of LMU's academic and administrative operations.
Hess began his career at LMU in 1981, shortly after his graduation, as the assistant director of admissions, director of testing and director of career planning and placement. He was named the director of institutional advancement in 1996, and the director of institutional research, effectiveness and accreditation in 1998. In 2008, he was promoted to the assistant vice president for academic affairs for planning and accreditation and was named vice president for academic affairs in 2010.
Hess is a member of the SACSCOC Principles Review Committee, charged with reviewing and recommending changes to SACSCOC accreditation standards and processes. He has presented numerous sessions and talks at professional association meetings. Hess co-chaired the 2014 SACSCOC Annual Meeting Planning Committee. He has also served on American Bar Association (ABA) Sabbatical Site Teams.
Hess earned a bachelor of arts in history and two masters degrees from LMU (one in counseling and the other in curriculum and instruction) and a Ph.D. in human services counseling from Walden University. Hess has four grown children and five grandchildren. He resides in LaFollette, Tennessee.
Hess's inauguration will take place during the University's 2017 Homecoming festivities, which are set to take place October 12-14.
Lincoln Memorial University is a values-based learning community dedicated to providing educational experiences in the liberal arts and professional studies. The main campus is located in Harrogate, Tennessee. For more information about the undergraduate and graduate programs available at LMU, contact the Office of Admissions at 423-869-6280 or e-mail at admissions(at)lmunet(dot)edu.