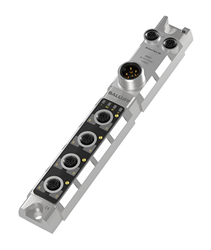 Florence, KY (PRWEB) November 21, 2016
Balluff's new 4-port slim design IO-Link masters can connect a multitude of smart devices over IO-Link to build a truly distributed machine mount controls architecture for today's automation.
With their robust IP67 housing, these industrial Ethernet based IO-Link masters can be mounted directly on the machine closer to the sensors and actuators—keeping short cable runs and adding enhanced diagnostics. EtherNet/IP, PROFINET and EtherCAT version of the masters are available.
These masters are feature-packed and ready for IIoT and Industry 4.0 application realization.

Full service webserver for EtherNet/IP and PROFINET IO-Link masters enable remote diagnostics and configuration of the master as well as attached IO-Link devices.
With SNMP on-board, the IO-Link master and all IO-Link devices are discoverable for network management systems for critical data gathering. This is made possible with the virtual IP address allocation feature of the master device.
Ease of maintenance with parameter server data on the IO-Link master allows storing IO-Link device parameters for each port, so that when devices need to be changed the parameters can be automatically downloaded making smart devices plug-n-play.
The Balluff Type A IO-Link mini-master can host up to 120 configurable discrete I/O when connected to Balluff IO-Link I/O hubs with an expansion port. Balluff offers add-on instructions and function blocks to promote ease of IO-Link into the existing controls architecture.
Learn more about Balluff's full IO-Link and Networking solutions at: http://www.balluff.us/io-link
Download high resolution image on Flickr.
About Balluff Inc.
Balluff Inc., the U.S. subsidiary of Balluff GmbH, Neuhausen, Germany, is a leading manufacturer of a wide range of inductive, photoelectric, vision, capacitive and magnetic sensors as well as linear position transducers, RFID systems, and networking products. Balluff products for OEM and factory floor solutions are used to control, regulate, automate, assemble, position, and monitor manufacturing, assembly, and packaging sequences for industries including: metalworking, automotive, plastics, material handling, wood processing, aerospace, alternative energy, medical, electrical, and electronics.