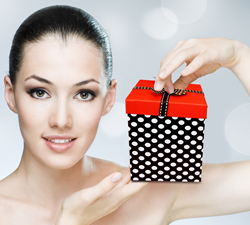 A perfect gift for the skincare lover, the stunning Sublime Beauty gift box includes its 3 most popular serums: Collagen, Hyaluronic and Retinol with Vitamin C.
St. Petersburg, FL (PRWEB) November 29, 2016
A beautiful gift box with bow on top, filled with three popular Sublime Beauty serums, is now available, ideal for skincare lovers.
"We offered this gift last year, and everyone went crazy over it," says Kathy Heshelow, founder of Sublime Beauty. "So we brought it back this year."
The gift box is available on Amazon and on the Sublime Beauty store with free standard shipping.
The gift box contains the Collagen Serum with the peptide Matrixyl, light and airy to moisturize and boost collagen; Hyaluronic Serum to plump and smooth skin; and the Retinol Serum with Vitamin C for use at night to heal and protect.
Retinol is one of the ingredients most recommended by dermatologists and is a staple.
No gift wrap is necessary, as the box stands alone.
ABOUT: Sublime Beauty® is a French-inspired quality skincare company that focuses on products to Age Well. Ingredients help to boost collagen, hydrate, relax wrinkles and improve skin. A niche includes healthy Skin Brushes. The company webstore offers free standard shipping and a VIP Club. Sign up for Secret Sales on the site. Products also available on Amazon.