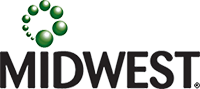 Canton, OH (PRWEB) November 18, 2016
The Precast/Prestressed Concrete Institute (PCI), an industry leader and authority in the pressed concrete industry, has held a Silica Vendor Workshop for road and yard dust control solutions. Midwest joins the ranks of 153 suppliers that attended the PCI event centered around servicing and improving all aspects of the construction process.
Founded in 1954, PCI is the nation's preeminent technical institute for the precast concrete structures industry. Over the years, the institute has compiled a robust set of resources and best practices regarding the design, fabrication, and construction of concrete structures, making it available to all sectors of the precast concrete industry. Through years of developing this body of knowledge, PCI has set many of today's prevailing industry standards.
Maintaining OSHA Crystalline Silica Rule Compliance
Precast concrete describes the end product when concrete is cast into a mold, transported, and then put in place. While precast concrete is known to be a durable, cost-effective, and versatile construction material, complications usually arise during the construction process -- specifically, workplace silica exposure.
Near construction sites, dust is never just dust: the material offset in construction often contains microscopic yet potentially harmful substances such as crystalline silica. When workers drill, cut, or grind objects that contain said substance, they release respirable-sized particles into the atmosphere in the form of silica construction dust. Surprisingly, road and yard dust is a significant contributor to silica exposure as well.
These silica particles are classified as a human lung carcinogen, meaning they can have a potentially negative impact on worker health. This, in combination with the fact that OSHA recently reduced its limits on respirable silica in the workplace, means that dust control is only getting more important for companies hoping to avoid stiff regulatory fines. Additionally, dust on construction sites can lead to air and water pollution.
The PCI's Silica Vendor Workshop and Midwest attending for silica road and yard dust means that two longstanding authorities in the construction industry have teamed up to provide the resources, techniques, and expertise needed to ensure worker protection from silica as well as safe and efficient construction sites around the world.
About Midwest
Midwest is the world leader in environmentally sound dust control, erosion control, and soil stabilization technology. We bring our customers more solutions, documentation and support than any other manufacturer.