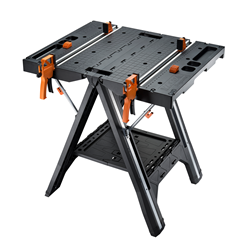 Pegasus is a versatile worktable and deluxe sawhorse that's like getting two workstations in one. It's quick and easy to set up or pack up for compact storage or transport.
Charlotte, N.C. (PRWEB) November 22, 2016
WORX® has provided Santa's helpers throughout the land with some cool new tool gifts for do-it-yourselfers on their holiday lists. Among this year's must-have tool innovations are the WORX Pegasus Worktable, WORX 20V MaxLithium Switchdriver, WORX TURBINE600 Blower and WORX SD SemiAutomatic Driver with Screw Holder.
WORX Pegasus is a space-saving worktable that converts into a sawhorse. It quickly sets up on a basement or garage floor, driveway, patio or worksite.
Pegasus has a 31 x 25 in. tabletop that supports up to 300 lbs. BuiIt-in aluminum channels house two quick-clamps (provided) to hold wood for cutting, sanding, gluing or finishing. Also, there are slots for four clamp dogs (provided) for securing circular or irregular-shaped work pieces. A lower storage shelf holds tools and materials, and includes a place to attach a power strip. Pegasus also interlocks with another Pegasus tabletop (optional) from the side or back to provide an expanded work surface.
To convert Pegasus to a sawhorse that supports up to 1,000 lbs., the tabletop's extension wings fold down and lay flat on both sides. Notches at both ends of each sawhorse hold 2x4s for elevating 4x8 sheet goods for clamping. This arrangement supports crosscuts and rip-cuts without cutting into the sawhorses.
The WORX Pegasus Worktable (WX051, $119.99) is available at worx.com and other online retailers, including Lowe's. The worktable is backed by the WORX 3 year warranty.
WORX® 20V MaxLithium Switchdriver has a rotating head equipped with two ¼-inch chucks to load various combinations of drill and/or driver bits. This allows the user to drill a pilot hole, and then rotate the head to switch chucks and sink the screw with a driver bit. Switchdriver also comes in handy when alternating between a countersink and driver bit, installing blinds or shelves with drywall anchors or completing assembly projects with different bit types and sizes.
Switchdriver weighs only 3 lbs. (with battery) and has an 11-position clutch with electronic torque control to prevent stripping of screws. The cordless drill/driver features a comfortable overmold grip, hand guard and LED worklight. It includes two 20V, 1.5 Ah batteries, a charger, carrying bag, two drill bits (1/8 in., 3/32 in.) and one #2 Phillips bit. The tool is covered by the WORX 3-year warranty.
The WORX 20V MaxLithium Switchdriver (WX176L, $99.99) is available at http://www.worx.com and other online retailers, including Lowe's.
WORX TURBINE600 Blower is the most powerful electric blower in its class and the most powerful blower WORX has ever offered. It can clear a quarter acre of fall leaves from a suburban lot in approximately one hour.
TURBINE600's axial motor pulls air directly into the fan and immediately forces it out through the large diameter blower tube. The blower tube contains a hyper-stream nozzle that concentrates and intensifies the air stream.
The 6.4 lb., 12 amp TURBINE600 blower develops a maximum air volume of 600 cubic feet per minute (cfm). This is combined with air speeds ranging from 60 mph up to 110 mph. A variable-speed control provides a light breeze for working in flower beds, garages, screened porches and other sensitive areas. Higher speed settings can be selected to quickly blast leaves and debris out of the way or into piles for disposal.
Find WORX TURBINE600 Blower (WG520, $59.99) at worx.com and other online retailers, including Walmart and Amazon. It's backed by the WORX 3 year warranty.
WORX SD SemiAutomatic Driver with Screw Holder is equipped with a screw holder attachment that consistently sets and levels screws for driving. Screws also are held securely in the holder's jaws when backing them out.
WORX SD SemiAutomatic Driver has a six-slot revolving cylinder that rotates one-inch, hex-shanked bits in and out of position for driving. The user simply slides back the cover to load a bit, and then slides the cover forward for driving screws. Since bits are stored in the cylinder, lost or misplaced bits are not a problem.
The cordless driver weighs one pound and is powered by a 4-volt lithium-ion battery with built-in charge port. The tool is constructed of nylon composite and has a comfortable rubber grip on the handle. It features a ¼-inch chuck, two-finger trigger, LED worklight and forward/reverse rotation button.
The kit includes the screw-holder attachment, bit cartridge, five-hour charger and six screw-driving bits: Phillips #1, #2; slotted #4, #6; and square recess #1, #2.
WORX SD SemiAutomatic Driver with Screw Holder (WX255L, $34.99) is available at http://www.worx.com.
To reach out to WORX social media links visit: Facebook: https://www.facebook.com/worxus?ref=hl;
Twitter: https://twitter.com/WORXTools; Pinterest: http://pinterest.com/worxtools and Instagram: @WORXTools