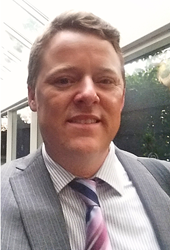 Carey's depth and breadth of industry experience, can do attitude, and customer care approach will be of great benefit to our customers," says IPVideo's Director of Business Development, Steve Rice
Bay Shore, New York (PRWEB) December 06, 2016
IPVideo Corporation, a manufacturer of IP-based surveillance and command center solutions, welcomes Carey Lefebvre as its Western Regional Channel Manager. Carey has been in the industry long enough to have seen a major change in his 20 years in the Physical Security and Surveillance landscape. Over the years, his primary focus has been dedicated to providing the newest surveillance products to his customers. Carey maintains an acute awareness of the latest trends in network-based (IP) High-Definition Video and Software. He has seen the technology behind the surveillance industry evolve from VHS to Digital, Analog to IP, low resolution to HD and beyond. Carey explains "today I feel we are witnessing the start of the next chapter in the industry's evolution... convergence."
"IPVideo continues to expand and grow as an organization with Carey being the newest addition. His depth and breadth of industry experience, can do attitude, and customer care approach will be of great benefit to our customers" says IPVideo's Director of Business Development, Steve Rice. In his time with Exacq Technologies as the Sales Director for the Greater Western U S, Australia and Asia Pacific, Carey saw the industry transition from Analog to IP. Through the years he's held various positions in critical roles. At Digital Watchdog, he was the Director of IP Sales, and held the position of Director of Sales for Valitus Technologies. This allowed him the opportunity to provide leading-edge surveillance technology to new vertical markets on a global scale. "All of my previous experiences have been stepping stones leading to today. I am very excited to join the to IP Video Corp team. I look forward to leveraging my comprehensive expertise and the knowledge l have gained through the years to help IPVideo Corporation be successful in this ever-changing marketplace" Carey explains. This industry is Carey's passion and he hopes his continuous efforts will have a positive and lasting impact in the industry's continual evolution.
Carey can be reached at (631) 675 - 2279 and clefebvre(at)ipvideocorp(dot)com
About IPVideo Corporation
An industry pioneer since its introduction of one of the first network-based surveillance recording solutions in 1996, IPVideo Corporation is now at the forefront of developing unique, innovative solutions that harness the power of IP video technology. Today, the Company's systems are trusted by Fortune 500 companies, government agencies and municipalities, utilities, healthcare facilities, school districts and leading universities to mitigate risk while protecting people and property. A commitment to an open-standards philosophy and delivering best-in-class performance and value underlies all offerings―from physical security solutions that bridge to the Internet of Things, to purpose-built HD audio/video recording solutions for education, law enforcement, healthcare, and beyond. The company's worldwide client base is served by a network of certified distributors, dealers and system integrators, who benefit from ongoing corporate support and training. IPVideo Corporation is headquartered in Bay Shore, NY. For more information, visit http://www.ipvideocorp.com.