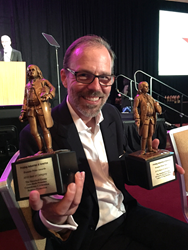 The Premier Print Award is the most prestigious international award for print. To win a Best of Category or a 'Benny' is an incredible honor
Lancaster and Reading, PA (PRWEB) November 21, 2016
At the 2016 Premier Print Award held in Orlando, Florida, The Standard Group accepted two Bennys, the highest honor, for its Countdown Celebration Holiday Promotion and Fig Lancaster Holiday Magazine.
The Premier Print Awards are the printing industry's oldest and largest worldwide graphic arts competition, hosted by Printing Industries of America. In its 67th year, the annual contest recognizes those responsible for the creation and production of superior print communications. The event promotes excellence in print communications and rewards companies and individuals who produce the very best in print media.
This year, more than 2,700 entries were received from printing and graphic arts firms from around the world, and judges awarded the Benny to the top entry in each category.
The Standard Group received a Best of Category award for Cross Media Marketing for its Countdown Celebration Holiday Promotion, which was an interactive multichannel campaign that redefined personalized communication with 33 variations and 26 personalized elements. Also a Best of Category award winner in Directories and Source Books was the company's Fig Lancaster Holiday Magazine, a beautiful hyper–local guide to to shopping, dining, arts and entertainment in Lancaster, PA designed by Fig Industries.
"The Premier Print Award is the most prestigious international award for print. To win a Best of Category or a 'Benny' is an incredible honor," states Scott Vaughn, CEO of The Standard Group. "This year we were able to win two Bennys - a phenomenal achievement and a testament to our team's hard work and print quality."
Michael Makin, president and CEO of Printing industries of America, agrees "The Benny winners represent the best our industry has to offer. This year's entries were outstanding. There were entries from companies in 8 countries. Despite the fierce competition, The Standard Group, through hard work and dedicated craftsmanship, produced a piece worthy of the Benny."
About The Standard Group: 
The Standard Group is a premier print management and marketing logistics company. We simplify the art of communication for our customers by understanding their business and delivering the right message to the marketplace. We partner with our customers to streamline and automate processes, facilitate ordering, improve quality, manage inventory and reduce obsolescence. By leveraging innovative workflow technologies, we execute multi-channel communication strategies to reach audience, drive engagement, increase revenue, reduce cost and raise compliance. Our award winning solutions with digital and print communication, personalized 1:1 messaging, online ordering, and marketing automation serve a unique and varied client base ranging from small non-profit organizations to large Fortune 500 companies. For more information on The Standard Group, visit http://www.standardgroup.com.