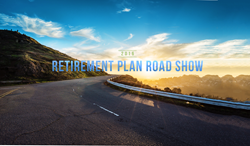 By far, the number one topic for both 401k and 403b plan sponsors remains Fiduciary Responsibilities.
(PRWEB) November 23, 2016
The 2016 Retirement Plan Road Show gathered over 550 retirement 401k and 403b plan sponsors across the nation. These human resource, finance, and business professionals were surveyed regarding their plans, topics of interest, and more. The 2016 Plan Sponsor Report highlights insights and trends from the data collected.
Fiduciary Training
There is still a major need for fiduciary training. When plan sponsors were asked if they've ever had fiduciary training; 67% of 403b plan sponsors and 69% of 401k plan sponsors reported reported "No," never having had fiduciary training. Comparing this from the same question asked in the 2015 survey, 71% of 403b plan sponsors and 73% of 401(k) plan sponsors. These statistics indicate that plan sponsors are thirsty for fiduciary education and training, but still lack resources or a quality forum to do so.
Topics of Interest
By far, the number one topic of interest for both 401k and 403b plan sponsors remains Fiduciary Responsibilities. The new DOL fiduciary rule likely kept fiduciary responsibilities in the headlines and, therefore, also in the minds of most plan sponsors. News and updates on the fiduciary rule will continue into 2017 as regulations and lawsuits continue to play out.
Most topics of interest were similar for 401k and 403b sponsors, except for benchmarking & RFPs, where 42% of 401k plan sponsors and 32% of 403b plan sponors were interested in the topic. This may indicate that 403b plan sponsors need to learn more about the importance of benchmarking and RFPs, and until then it is not a topic of interest. Considering that higher education 403b plan sponsors this year were rocked by lawsuits, it may play out where the important due diligence processes of benchmarking and RFPs will become a bigger focus in the year to come and may trickle down to the smaller 403b) market place.
Xponential Growth Solutions will continue the Retirement Plan Road Show through out the nation in 2017 and will continue their plan sponsor survey next year.
The full report, including information broken down by plan size and questions regarding RFPs and service provider searches, can be download by clicking here.