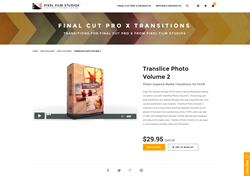 TranSlice Photo Volume 2 is a transition toolset that comes with over 50 customizable presets that are easy to use in Final Cut Pro X
Aliso Viejo, California (PRWEB) November 23, 2016
"TranSlice Photo Volume 2 is a transition toolset that comes with over 50 customizable presets that are easy to use in Final Cut Pro X," said Christina Austin - CEO of Pixel Film Studios.
TranSlice Photo Volume 2 includes 30 different presets for the editor to choose from, each with an added Motion-Blur variation built for extra realism. Each preset contains a unique camera movement with slight camera shake, and can be stretched to accommodate any duration. Each preset contains Drop Zones for the user to insert different media into.
Every TranSlice Photo Volume 2 preset in FCPX includes fully-editable text for the user to place between shots, allowing for individual phrases and messages to be conveyed throughout the project. Every text level in TransWall Dynamic has shadow options that can be modified for more realistic lighting and depth perception.
All TransSlice Photo Volume 2 presets include lighting overlays and shadow controls. These lighting and shadow controls can be adjusted to have sharp harsh casted shadows, or soft light lighting effects to add atmosphere to each transition. Final Cut Pro X users have the ability to tint overlays, add textures to the backgrounds, and change the panel sizes allowing Film Makers to create infinite layouts.
TranSlice Photo Volume 2 is a set of Drag and Drop transitions that can be applied to the editors timeline easily, between each of the desired clips. Each transition is then stretched to the desired duration and is then modified to the users style. Full Text options allow easy editing, and can be used with any font. TranSlice Photo Volume 2 is a universal transition pack designed for any skill level editor.
Designed For Final Cut Pro X Versions 10.2.1 and newer
Established in 2006, Aliso Viejo, California-based Pixel Film Studios is an innovative developer of visual effects tools for the post-production and broadcast community. Their products are integrated with popular non-linear editing and compositing products from Apple FCPX. Apple, the Apple logo, Mac OS X, and Macintosh are registered trademarks of Apple Inc. in the U.S. and/or other countries. All other trademarks and trade names are the property of their respective owners.