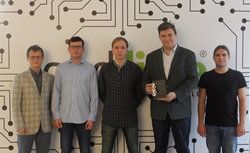 "We're very proud of our second-place finish at the D-CTF finals - the result shows that we can successfully compete with the best hacker teams in the world," commented team captain Robert Tomkowski
Warsaw, Poland (PRWEB) November 21, 2016
The DefCamp CTF computer security competition took place over 24 hours starting on November 10th, with 16 teams from Japan, Poland, Ukraine, Sweden, South Korea, Switzerland, France, Taiwan, Romania, Israel and Singapore participating. As in all CTF competitions, the teams were tasked with to solving a number of challenges from various security categories such as reverse engineering, web application hacking, pwning and cryptanalysis. At DefCamp CTF, challenges included communication protocols for Internet of Things-connected appliances.
CS16 successfully solved 18 of 19 problems, completing the last one with just 15 minutes left on the clock. The winning team, Japan's scryptos, also solved 18 problems but edged-out CS16 with a faster finish. Points won in CTF competitions held during a year are the basis for the all-important CTFtime annual rankings. Among the 14 teams finishing behind CS16 at D-CTF was Ukraine's DCUA – currently the #1 ranked team in CTFtime's 2016 rankings.
Captained by Robert Tomkowski, CS16 also includes Borys Poplawski, Marcin Koscielnicki and Maciej Pytel. Earlier this year, Tomkowski and Poplawski placed 19th out of a field of several hundred teams in the DefCamp CTF Qualifications, giving CS16 a place in the final event. In Bucharest, the team was bolstered by CodiLime's Adam Iwaniuk, who usually competes as a member of Dragon Sector - Poland's top CTF team which has finished in the top 3 in the last three CTFtime annual rankings.
"We're very proud of our second-place finish at the D-CTF finals - the result shows that we can successfully compete with the best hacker teams in the world. Each competition gives us a tremendous amount of new experiences, such as learning to solve problems under extreme time pressure and physical exhaustion. It's also a great motivator to continuously expand our knowledge – we can be sure that any newly discovered vulnerability or attack will show up at the next CTF," commented team captain Robert Tomkowski. "Of course, D-CTF is just one step toward our ultimate target: the overall CTFtime team ranking. This year, we're among ranked in the top 40, but 2016 is just a warm-up for us. We started competing in June – after many of the competitions that go into this year's ranking were already completed. Our ambition is to be among the top-3 CTF teams in the world."
CS16 team members are part of CodiSec, CodiLime's rapidly growing cyber-security business unit. Beside taking part in CFT competitions, CodiSec is currently developing a soon-to-be released open-source binary file analysis tool combining decompilator, hex editor, disassembler and binary data visualisation features.
###
About CodiLime:
CodiLime provides professional IT consulting and software engineering services for global clients in three core areas: Networks, Security and Big Data Science & Deep Learning (through its deepsense.io subsidiary). The company was established in 2011 by a group of Polish computer scientists and mathematicians with outstanding technical backgrounds and professional experience gained at leading global IT companies in Silicon Valley. Currently, CodiLime is made up of approximately 200 carefully chosen team members (mostly software engineers and data scientists). CodiLime clients such as NTT, Intel, NVIDIA, IBM, Nielsen, AT&T, Hitachi and Juniper Networks have come to rely on our team to provide them with the highest quality in services and products.
About CodiSec:
CodiSec is a new CodiLime initiative focused on delivering penetration testing and malware analysis services. It's run by a group of security experts who continuously prove their skills with top spots in global Capture the Flag (CTF) hacking competitions. The team is currently developing their own open-source tool for binary file analysis allowing users to combine hex editor, disassembler and binary data visualisation into a single tool.