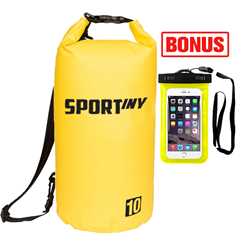 Enjoy Your Next Trip
California (PRWEB) November 20, 2016
Lovers of adventure sports are always looking for gears and accessories that enable them to take good care of their belongings and indulge in their favorite activities more intensely. One of many accessories that plays an important role when indulging in various water sport activities is a waterproof dry bag. It allows users to take care of all of their necessary belongings, thereby keeping them dry and ready for usage. Sportiny is a reputed brand that is known for designing, manufacturing and supplying waterproof dry bags that are perfect for a wide range of occasions. Whether one is looking to go kayaking, boating, rafting, canoeing, hiking, swimming, camping or fishing or simply spend the weekend at the beach, the waterproof dry bags developed by Sportiny are perfect for packing a wide range of items.
Made of high quality PVC material, the dry bag's waterproof features come with enhanced features that make them highly flexible and versatile for different types of uses. The superior quality PVC material that is used for manufacturing the waterproof phone bag products make them soft and smooth while still offering enhanced protection against water. This product offers a 100% waterproof guarantee, which renders it perfectly suitable for carrying different types of personal items. The bags also come with a handy shoulder strap that makes it quite easy to carry them around. The strap can be easily adjusted according to the utmost convenience of the users.
By getting the waterproof dry bags developed by Sportiny, one can easily improve the experience of any water sport or adventure trip while staying completely assured of the fact that all personal belongings are kept completely dry and free from water contact. The enhanced materials used in these waterproof bags help to make sure that they can be easily handled for long hours. One can now get the Sportiny waterproof dry bags and start enjoying the benefits that these bags have to offer on Amazon.
Product Link : http://www.amazon.com/dp/B01M1RBDUN
About Sportiny
Sportiny is a manufacturer of waterproof dry bags that can be carried by individuals as they indulge in adventure sports or perform a wide range of thrilling activities such as kayaking, canoeing, boating, rafting and hiking. Made of fine PVC materials, the bags offer 100% protection against water or moisture.
For more information about products and promotions. Customers can visit Sportiny Promotion page at: http://sportiny.net/promotion/ to get the latest promotion with more benefits.
Buyers order today can get one bonus waterproof bag for phone!
Hurry up - Limited Time Only!
Contact:
Company Name: Sportiny
Website: http://www.sportiny.net
Email: support(at)sportiny(dot)net