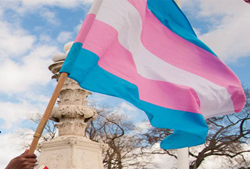 Regardless of gender identity, the goal is always the same - finding your voice.
Baltimore, Maryland (PRWEB) November 18, 2016
The Hearing and Speech Agency (HASA) in Baltimore acknowledges Transgender Awareness Week from November 14-20 with a range of therapeutic services for members in the transgender community.
Transgender Awareness Week is dedicated to educating the public about the transgender community and important issues facing the trans community.
When going through transition, transgender individuals may experience vocal dysphoria, or a profound state of unease caused by the discrepancy between their voice and their identity.
The speech-language pathologists at HASA work with gender markers in communication to examine a number of different aspects of the voice and speech, improving overall communication skills for transgender individuals, an integral part of the human identity. This vocal modification therapy can be particularly important for those who may be causing damage to vocal chords by self-modification of the voice without specific coaching.
While some people are comfortable keeping the same voice or adjusting it on their own, others may want the help of a professional in shifting their voice to better reflect their identity—without inadvertently causing undue stress or damage to the vocal folds.
Non-verbal interactions are also a part of communication identity and may be a struggle for transitioning individuals. Posture, hand gestures, facial expressions, and eye contact vary between individuals, but tend toward different tracks between masculine and feminine people. The professionals at HASA work with transgender clients to find a comfortable combination of both verbal and non-verbal communications norms that best suit the individual's identity.
"Verbal and non-verbal communication styles are mixed and matched according to each individual's needs, either following the path expected by society or one of your own," said Jennifer Smith, speech-language pathologist at HASA. "Regardless of gender identity, the goal is always the same - finding your voice."
Speech therapists at HASA can help transgender people find a voice that reflects their true identity, and they can also help make adjustments to nonverbal communication. Goals for therapy may include finding a comfortable and safe pitch for speaking, learning how different speech patterns are perceived, and identifying parts of our communication and interactions that conflict with our identities.
To learn more about voice modification and other services for the transgender community offered by HASA, please visit http://www.hasa.org.
About The Hearing and Speech Agency
The Hearing and Speech Agency (HASA) is a private, non-profit organization that provides hearing and speech services, offers an information resource center and advocates for people of all ages with communication challenges. Services include hearing tests, hearing aids, hearing-aid repair, speech-language evaluations and therapy, listening and spoken language services, pre- and post-cochlear implant services, occupational and physical therapy, special education, sign language interpreting, sign-language classes, Deaf awareness seminars, social work, and parent support groups.