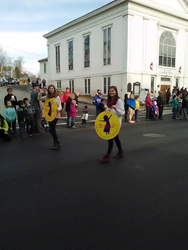 It's a great time for families to come out and enjoy the holiday season and there is plenty to see and do!
(PRWEB) November 18, 2016
Every year the Littleton Area Chamber of Commerce holds the Holiday Parade the day after Thanksgiving as a way to welcome the arrival of Santa Claus. The parade was established in 1986 by Dennis Hartwell who still plays a major role in organizing the annual event. "Every year is a different theme, this year being Parade of trees: wild and crazy ways to decorate a holiday tree, we're excited to see what parade participants come up with for their festive floats" says Hartwell. The parade starts at 12:00 pm from Hitchiner Manufacturing and continues to Littleton Fire Station ending the parade around 1:00 pm.
Last year the parade boasted 15 floats with nearly 1,000 people in attendance. "This year we are hoping to surpass last year's numbers!" says Hartwell, "We have a lot of local businesses that continue to participate and support the parade, like Chutters Candy Counter, Abbott Rental & Party Store, and Woodsville Guaranty Savings Bank, among many others." Both Chutters and Abbott Rental create eye catching floats while Woodsville Guaranty Savings Bank provides a horse drawn carriage for Santa Claus and Mrs. Claus to make their way down Main Street following the floats.
In previous years, The Cog Railway has brought their original steam engine, Peppersass, which is the first mountain-climbing cog railway engine in the world and celebrating its 150th anniversary this year. Wally the green monster also made an appearance at the Holiday Parade the year the Red Sox won the World Series. Miss New Hampshire and Miss Littleton Area are also in attendance of the Holiday Parade every year. The parade attracts quite the local celebrities from around the New England area.
In addition to these local celebrities, the Littleton High School and Profile High School marching bands combine to bring a musical contribution to the parade. Joining the musical component of the parade is Summertime Marching Band, based out of Monroe, New Hampshire and the Mad Bavarian Brass Band comprised of 15 musicians traveling from around the southern New Hampshire and Vermont area to participate in the Holiday Parade.
Following the parade, there is an annual Santa Party held at the Littleton Community Center. Santa Claus does a reading of The Night Before Christmas and the kids get a chance to tell Santa what they would like in their stockings. "It's a great time for families to come out and enjoy the holiday season and there is plenty to see and do!" says Jessica Bunker, Interim Executive Director at the Littleton Area Chamber of Commerce. There will be a Craft Fair at the Littleton Opera House the day following the parade as well. For more information on the event, and other local area events, visit http://www.littletonareachambernh.com/chamber-events/.