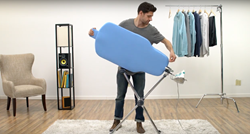 Livingston, NJ (PRWEB) November 18, 2016
Sharkk Labs, a division of home and lifestyle brand Sharkk, has announced today that their Kickstarter campaign for the innovative Flippr Ironing Board has surpassed its $20,000 goal to become over 100% funded in just 24 hours.
The revolutionary 360-degree Flippr from Sharkk Labs marks the first major redesign of the traditional ironing board since it's inception in the 1800's. The Flippr features a torso-shaped board that rotates 360 degrees, an iron pocket, a detachable detail board and 8 levels of height adjustment, all built on a solid aluminum frame.
"We're ecstatic to know that our Kickstarter backers share our passion for this innovative product," says Sharkk CEO, Dov Brafman, "and we're extremely excited to be able to bring it to consumers in time for the holiday season."
Backers can still make a pledge on Kickstarter for as low as $99.99 to be eligible to receive a Flippr in time for Christmas. For every backer received, Sharkk will also deliver a pair of holiday smiley socks to a children's hospital, uplifting another child in need. For more information or to back the Flippr, head to the Flippr Kickstarter page or check out flippr.com.
Connect with Flippr on Twitter, https://twitter.com/theflippr and Facebook, https://www.facebook.com/theflippr/
About Sharkk Labs
Sharkk Labs, a division of Sharkk, focuses on bringing innovative products to consumers through crowdfunding platforms. Sharkk Labs maintains the highest standards of a premium-product experience – without the premium price tag.
For additional information about Sharkk, please visit: sharkk.com
For additional information about Flippr, please visit flippr.com