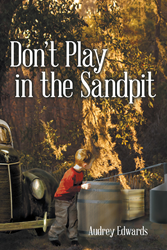 (PRWEB) November 28, 2016
Audrey Edwards vividly remembers the day she first tasted moonshine. She was five years old when she discovered a jar of her dad's "sour mash" and drank it to her heart's content. Now 87, Edwards has written a second novel, "Don't Play in the Sandpit," which was inspired by her lifetime exposure to the cyclical outcome of alcohol use among young children.
A character-driven, historical fiction novel, "Don't Play in the Sandpit" takes place during the early 20th century in an isolated community where moonshine is the sole focus of entertainment and income. The novel also portrays how some adults have not done their part to discourage children from drinking.
"Sure my novel is fiction, but there were, and still are, many young children who begin drinking before they are old enough to make choices," Edwards said. "By the time they are old enough, they are no longer capable of making the right choices."
Edwards said she wrote "Don't Play in the Sandpit" to entertain readers, as well as to open the dialogue about the real societal issues of alcohol use.
"I've seen the generational effects of alcohol use and the negative impact it has on someone's life," Edwards said. "It's because of this that I think more needs to be done in order to combat issues with underage and binge drinking."
"Don't Play in the Sandpit"
By: Audrey Edwards
ISBN: 978-1-4808-3106-3 (sc); 9781-4808-3107-0 (hc); 978-4808-3108-7 (e)
Available at Archway Publishing Online Bookstore and Amazon
About the author
Audrey Edwards is the author of "Don't Play in the Sandpit" and "Emil Holzhauer: The Portrait of an Artist." Edwards spends her free time volunteering as a speech pathologist and resides in Niceville. To learn more about the author and his book, please visit http://www.audreybrownedwards.com/
Review Copies & Interview Requests:
LAVIDGE - Phoenix
Courtney Coombes
480-998-2600 x 612
ccoombes(at)lavidge(dot)com
General Inquiries:
LAVIDGE - Phoenix
Maggie Driver
480-998-2600 x 584
mdriver(at)lavidge(dot)com