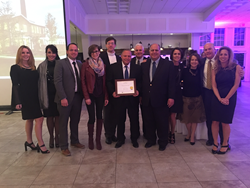 Guilford, Conn. (PRWEB) November 18, 2016
William Pitt Sotheby's International Realty announced today that The Residences at 66 High Street, a new development of luxury condominiums listed for sale with the firm, was honored this year with the Home Building Industry (HOBI) Awards' "Project of the Year," the highest honor the organization bestows on new developments. The project also received expected recognitions in the categories of Best Condominium Community, Best Condominium Unit and Best Historic Rehab, but the "Project of the Year"—one of the HOBI's "Grand Awards"—came as a surprise to the builders behind the development, the Horton Group.
The Residences at 66 High Street, which consists of a full renovation of a 130-year-old mill building with respect to its historic character, was selected for the prestigious award over a number of other new development projects across the entire state of Connecticut, as well as additional developments in Westchester County, N.Y., and in Rhode Island.
William Pitt Sotheby's International Realty also received a HOBI Award in the category of Best Ad for The Residences at 66 High Street.
The HOBI Awards is Connecticut's most prestigious housing industry program, acknowledging distinction in new construction, land development, remodeling, sales and marketing, and home financing. A panel of HOBI judges with expertise in home building select the winners each year by reviewing applications submitted by Home Builders Association (HBA) members, and by visiting homes and neighborhoods across the state.
"We were humbled and honored by the wonderful surprise of receiving the HOBI's top honor for the night in new developments," said William Pitt Sotheby's International Realty Guilford brokerage manager Kathy Mitchell. "The Horton Group's masterful work defines the architectural quality embodied in these awards. We are proud to be a part of this team and to represent this exceptional project."
Kathy Mitchell attended the annual award ceremony dinner alongside listing agents Nikki Travaglino, Anne Scandone and Peter W. Cowie, as well as Horton Group developer Kenny Horton and other team members Earl Horton, Jason Burke, James Blank, Bill Belanardo, Bruno Riga and designers Maryellen Sullivan and Susana Smith. Also in attendance were Ron Nault and Robert Grzywacz from the architectural firm of Luchs/DeCarlo and Doll, Inc.
Now almost complete, the converted mill building maintains its original roots by keeping its locally recognized exterior largely intact, while boasting luxurious townhouse interior styles with modern design and upscale amenities including LED lighting, state-of-the-art HVAC, sound systems, Smart Home technology and spacious kitchens with high-quality appliances. In addition to the mill building, which also includes an attached Quonset hut structure, three new buildings are being constructed on the site. Collectively, the buildings include townhouses and single-level, two-bedroom units ranging in size from 1,850 to 2,600 square feet. With 57 approved condos, the development represents over $56 million in inventory for Guilford.
The Horton Group is a full service general construction and maintenance firm founded in 2000. The Connecticut-based company specializes in a wide range of commercial, industrial and residential projects from restoring historic buildings to developing new properties.
The HOBI Awards dinner, attended by approximately 900 guests representing every corner of the state, took place the evening of November 16, 2016 at the Aqua Turf Country Club in Plantsville.
For more information on The Residences at 66 High Street, please visit its website here.
About William Pitt and Julia B. Fee Sotheby's International Realty
Founded in 1949, William Pitt and Julia B. Fee Sotheby's International Realty manages a $3.9-billion portfolio with more than 1,000 sales associates in 28 brokerages spanning Connecticut, Massachusetts, and Westchester County, New York. William Pitt and Julia B. Fee Sotheby's International Realty is the largest Sotheby's International Realty(R) affiliate globally and the 28th-largest real estate company by sales volume in the United States. A full-service real estate firm headquartered in Stamford, Connecticut, William Pitt and Julia B. Fee Sotheby's International Realty provides ancillary services including commercial services through its affiliation with Building and Land Technology, a second-generation development company based in Stamford, Connecticut; William Pitt Insurance Services; and an award-winning global relocation division. For more information, visit the website at williampitt.com.
Sotheby's International Realty's worldwide network includes approximately 19,000 sales associates located in approximately 850 offices throughout 65 countries and territories.