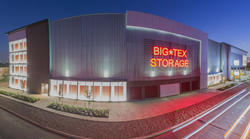 At Big Tex, we strive to provide the very best storage experience coupled with amazing customer service, so I am hoping we will be a welcomed part of the Montrose community," said Owner Bobby Grover.
Houston, TX (PRWEB) November 21, 2016
Big Tex Self Storage, the leading provider of self storage facilities in Houston, is proud to announce the grand opening of our new Montrose location.
The state-of-the-art facility offers 100,000 square feet of storage space to Montrose, Southampton and Boulevard Oaks residents. Located at 1810 Richmond Avenue, Big Tex Storage Montrose was built on previously vacant property primed for redevelopment and revitalization. To provide a more pedestrian-friendly area, Big Tex Storage has added updated landscaping and new side walks along the entire frontage of Richmond Ave. It is the first project on Richmond Avenue in the Montrose area to do so. Recognizing the artistic nature of the surrounding community, Big Tex Storage plans on repurposing a 15x10 exterior wall that faces Richmond avenue into an art wall. Commissioned by local artists, the art wall will be changed quarterly with new themes curated each time.
Big Tex Storage is excited to contribute to and be a part of the Montrose & Museum District community according to Owner Bobby Grover. "As a born and raised Houstonian, I can't think of a better neighborhood to grow into than Montrose. I am a supporter of its museums, my wife loves the vintage boutiques, and we regularly enjoy its incredible restaurants," he said. "We spend our time in Montrose, so it seemed to be a natural fit to open a Big Tex Storage in Montrose on Richmond Ave. At Big Tex, we strive to provide the very best storage experience coupled with amazing customer service, so I am hoping we will be a welcomed part of the Montrose community!"
To celebrate its grand opening, Big Tex Montrose is currently offering two specials: 50% off units for 3 months for short-term rentals or a 1-2-3 Special for long-term rentals where customers can can buy a month and get 1 month free for up to 3 months. The facility offers climate-controlled storage units for personal and business use, as well as wine storage for private collectors and restaurateurs in the area. The modernized, state-of-the-art storage facility is equipped with extensive security features including over 40 cameras recording on-site activity on a 24-hour basis, monitors on every floor, and digitally controlled access to enter the facility. Climate-controlled storage units range from 5 x 5 to 10 x 30 and include individual door alarms for added security.
Consistent with other Big Tex Storage locations, the Montrose facility provides customers with the convenience of an on-site packing and moving supply store, complimentary truck rental, use of dollies and platform trucks, and flexible rental agreements. It is one of the only premier Houston storage facilities to provide both online reservation and online rentals as a convenience to their customers. Committed to meeting Houston's storage needs, Big Tex Storage will be expanding its reach in early 2018 to the Garden Oaks and Oak Forest community with a new class-A storage facility at Ella and West 34th Street. Recognizing the area's tremendous growth, Big Tex hopes to be the first new class-A storage built in the area and storage facility of choice to local residents.
Big Tex Self Storage is the premier source of self-storage services in the Houston, TX area, including River Oaks, Greenway Plaza, West University, Upper Kirby, Spring and The Woodlands. Founded in 2005, Big Tex is a locally owned storage business focused on developing and managing high-quality self storage facilities in Houston. With a combined storage space of 290,000 square feet, Big Tex Self Storage facilities provide storage solutions for personal, business, vehicle, and wine self storage. Our commitment to our customers is to consistently deliver satisfaction and provide peace of mind through services and features centered around convenient moving and storing.