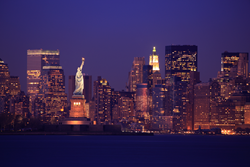 "Our Cyber Monday Sale is the perfect way for travelers to design their own unique NYC experience, appropriate for their specific interests and budget."
New York, New York (PRWEB) November 21, 2016
Empire Hotels, a diverse collection of NYC hotels from Midtown to the Bronx, is offering up to 40% savings on all room types for their Cyber Monday Sale. Book November 21 to December 5, 2016 for stays between January 1 and March 31, 2017 to save. This unique collection of hotels features different price points and services for all types of travelers near various iconic attractions across the city.
Take advantage of this exclusive New York City discount by visiting the sale website.
With locations across Manhattan and in the Bronx, Empire Hotels offers a range of distinct NYC experiences, ideal for business trips, romantic escapes and family vacations alike. Convenient locations in various neighborhoods allow guests the easiest access to a number of legendary attractions, including:

Times Square
Lincoln Center
American Museum of Natural History
Columbia University
Broadway Theatres
Yankee Stadium
Fifth Avenue
"With seven distinct properties across NYC, the Empire Hotels collection offers something for everyone," said Michael Link, General Manager at The Belvedere Hotel. "Our sale is the perfect way for travelers to design their own unique NYC experience, appropriate for their specific interests and budget."
The offer is valid on all room types and includes free Wi-Fi. Learn more here.
About Empire Hotels:
Offering travelers a diverse collection of illustrious hotels in New York City, Empire Hotels encompasses The Pearl, The Belvedere, The Newton, The Travel Inn, The Americana Inn, The Belnord, and the Opera House Hotel. With distinct locations from the Bronx to Midtown, Empire Hotels offers different price points and amenities to suit every type of budget and every type of traveler to NYC. Guests of Empire Hotels enjoy easy access to a variety of attractions, including the American Museum of Natural History, Columbia University, Lincoln Center, Broadway, Yankee Stadium, Fifth Avenue, Times Square and more.