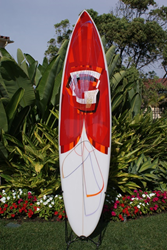 Dana Point, California (PRWEB) November 19, 2016
The Ritz-Carlton, Laguna Niguel presents the Annual Holiday Surfboard Auction, a benefit for Surfers Healing. Honoring the resort's commitment to Community Footprints and supporting worthy causes, this seasonal holiday auction supports Surfers Healing whose mission is to enrich the lives of people living with autism by exposing them to the unique experience of surfing.
This year's auction will showcase more than two dozen amazing surfboards donated by renowned artists, famous actors, legendary musicians, and surf industry greats. The surfboards are displayed at the oceanfront resort throughout the holiday season and are auctioned off at http://www.BiddingForGood.com/SurfersHealing. The online auction opens November 20 and runs through December 31, 2016.
Donated surfboards include works by such artists as Wyland, Magda Sayeg, Johnny Robles, Bhakti Baxter, Nathan Paul Gibbs, Sage Vaughn, Jorge Guiterrez and Sandra Equihua. Brawner Boards, Ellis Surfboards, Hobie, and Firewire are also providing boards in support of the cause.
A highlight for the auction is a board painted by San Diego artist Jeremy Sicile-Kira, who has recently recognized as one of the finalists in Redwood Media Group's 2016 [PLATFORM] Artist of the Year contest. The contest is produced in partnership with Art Brand Studios and is the premier awards contest for visual artists looking to become the next big art-world discovery. Jeremy was diagnosed with autism at an early age, but discovered his gift for painting at the age of 24 when he began to communicate to his parents about the colorful abstract portraits he was painting in his dreams. Jeremy curated his first solo art show in April 2016, which was covered by national media including People.com, NBC, ABC, Good Morning America and thecreatorsproject.vice.com.
Additional highlights for this year's auction include three surfboards from Fordistas' The Pop-Up, a collection of six Miami artists' visions reflected on surfboard canvases to raise awareness of autism and benefit Surfers Healing. The three artists include Johnny Robles, Bhakti Baxter, and Douglas Hoekzema, aka Hoxxoh, who each engraved their local talent and perspective on a freshly shaped surfboard by industry legend Matt Kechele. The board is a work of art in and of itself, and this is their canvas. Fordistas is a program with roots embedded deeply in South Florida culture, namely the arts.
# # #
About Surfers Healing
Though Surfers Healing serves thousands, their mission exists because of one child. Izzy and Danielle Paskowitz founded Surfers Healing because of their son, Isaiah. Isaiah has autism, and when he struggled with meltdowns and sensory overload, riding the waves with his father calmed him like nothing else. Not everyone has a championship surfer for a dad, so the Paskowitz family invited others to join them at the beach. Their idea caught on, and now Surfers Healing is a nationwide, grassroots non-profit organization. They are the original surf camp for children with autism and ALL of their events are free. Yet even though they had 4,500+ participants last year – and even though autism now affects 1 in 68 children in the U.S. – Surfers Healing doesn't think in thousands. They think in ones, because that's where they can effect change. One child. One family. One day at the beach.
About The Ritz-Carlton, Laguna Niguel
The Ritz-Carlton, Laguna Niguel sits perched atop a seaside bluff with panoramic views of the Pacific Ocean and more than three miles of sandy beach. The resort continues to redefine the guest experience by creating distinctive, unforgettable, and #EpicMemories that are presented against an extraordinary backdrop. A re-imagined surfside retreat that awakens guests' senses with its unique ocean-front setting and remarkable service heritage, the resort is the premiere destination for travelers who desire a playful approach to true Southern California luxury. The resort offers many extraordinary luxury experiences including Raya, 180blũ, The Market Place, enoSTEAK, Bar Raya, The Spa and the Eco-Adventure Center. For more information or reservations call 800-241-3333, the hotel directly at 949-240-2000, a travel professional or visit http://www.ritzcarlton.com/LagunaNiguel.