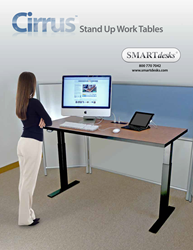 SMARTdesks defines latest design in standing desks for home, school and office. Smart Desks allows people to stand up and think on their feet.
Baltimore, MD (PRWEB) November 20, 2016
SMARTdesks expands its line of Stand Up Smart Desks, now online for customized production. The beauty of making each product to order is the ability to improve the product as each is customized for every customer. These incremental improvements lead to fresh designs with design enhancements that improve functionality, economy and performance. SMARTdesks proudly presents the state of the art in standing desks, as it continues to push the envelope for customer satisfaction.
SMARTdesks Adjustable Height Multi-purpose Desk with Spring Pin Legs offers the greatest economy and simplicity. The spring pin adjustment makes this a practical choice for K-12 schools because they can be adjusted for the needs of different grades throughout their long service life. Height adjusts from 24 to 30 inches in one inch increments. Tops are available in widths 36 to 72 in 6 inch increments. Tops may be laminate with PVC edges or 3D thermofoil with contoured edges. A truly multi-purpose table that can be used with computers, art materials—even serves in lunchrooms (with hair net option).
SMARTdesks Cirrus twin T-base ratchet type height adjust is an economical solution for providing sit to stand desk flexibility for school, home and office. The trade off for the lower price is that you have to remove the material on the table top before changing the height, or have the assistance of someone to help lift the top. Height range is 26" to 35.45"— sitting to counter top height in 13 stop positions. A ratchet mechanism operates by lifting to the height desired. After top is lifted to the maximum, the ratchet resets to its lowest position. Physical strength is required. Installed options include power data grommet connection box. Two design styles are offered: tubular steel and square column steel. The square column version is also available with options for a flip-top for easy storage and casters for mobility.
The hydraulic LiftRoller stand up office desks give a power assist to the person lifting or lowering the table top. The base systems are paired with the static load requirements for the workstation, hydraulic assist force is scaled to the size and weight of the computer technology being used. Squeezing a release handle engages the hydraulic lift so a 60 pound load feels like 10. This enables the computer user to stand, lift and continue working at standing height at will. The LiftRoller hydraulics can be stopped anywhere in the adjustment range for maximum comfort: 27.25" sitting to 46.75" standing.
Single column pedestal standing workstations can bet specified with circular, square, triangular and other top shapes. Ratchet or LiftRoller hydraulic height adjustment can be used.
The motorized stand up Smart Desk is the most effortless way to change from sitting to standing. A touch of a button activates two synchronized motors that provide lift for a load up to 225 lbs. The twin columns and twin motors are controller-synchronized from a zero set point at the lowest position. Controller electronics can be positioned to permit installation of options, such as the flipIT Workstation, Laptop Safe or LCD arms, keyboard trays and CPU holders. The base height range goes from 26" to 45.7" at a speed of two inches per second.
SMARTdesks designs and manufactures innovative, custom computer conference tables and computer classroom furniture. Each product is made to order, nuanced for the technology, purpose and interior design choices for the space. SMARTdesks is the patent holder for flipIT® products and is the sole source for flipIT and factory integrated flipIT furniture products. Serving universities, corporations, government and military clients world-wide, SMARTdesks furniture is made in the USA using Certified GREEN manufacturing methods. For more information, contact smartdesks through the web site— http://www.smartdesks.com