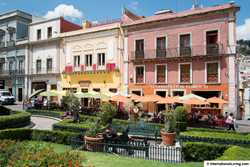 Moving overseas can be easier and more affordable than most people imagine.
Baltimore, MD (PRWEB) November 21, 2016
Many Americans toy with the idea of living in another country but assume it's too expensive or just too complicated. Pick the right place however, InternationalLiving.com argues, and moving overseas can be easier and more affordable than most people imagine.
It's possible to live life relaxing beneath palm fronds on a Caribbean beach, enjoying farm-fresh produce in a mountain haven with year-round spring weather, or wandering the cobbled streets of a historic, art-filled colonial town.
To make a move painless, InternationalLiving.com advises:
1. Start by choosing somewhere close to home, within a few hours of the States—that makes hopping back to visit with family and friends a cinch.
2. Choose a place where getting a long-term visa is simple and low-cost—it won't mean giving up your U.S. citizenship.
3. Seek out a community where an expat population already exists—that provides a pool of ready-made friends where language is no barrier to fun and fitting in.
4. Gravitate toward a locale where the daily costs of living are much lower than in the U.S. That can allow you to improve your quality of life and enjoy an adventure... often for less than it would cost to stay home.
Easy place number 1: Mexico
The benefits of moving to Mexico have never been more apparent. Today's Mexico is largely First-World. It's got high-speed telecommunications, first-run films (in English, with Spanish subtitles) and television shows. You'll find shopping malls and supermarkets, all carrying many familiar products from home. But you'll also enjoy a slower, more relaxed pace of life here, where children still play in the streets and neighbors know each other. In many ways, Mexico today is like the U.S. was 50 years ago…before big government, big business, and special interests whittled away the lifestyle our parents took for granted.
Proximity: So close to home you can drive there…Mexico's proximity is one of its major draws with excellent highways, sleek airports and dozens of direct flights daily.
Visas: To live in Mexico long-term you can apply immediately for a permanent resident visa. The permanent resident visa is open-ended—there is no expiration date. It also gives you the right to work. You can show a monthly net income or pension over the last six months of at least $1,826 or you need to show investments with an average monthly balance over 12 months of about $73,040. There are many types of temporary resident visas in Mexico, which you can hold for up to four years and the minimum monthly requirement is about $1,096 in net income for an individual.
Fitting in: One million Americans can't be wrong. That's how many are reported to live "South of the Border." While it's hard to verify that number, it's not hard to imagine that it's true. Some are working, some live in Mexico part-time…and many have moved there to enjoy their retirement years. So, you won't be stuck for friends from home.
Cost of Living: The current exchange rate between the U.S. dollar and the peso—right now it's roughly 20 pesos to the dollar—means Mexico is an even bigger bargain than it used to be. But Mexico has always been a place you can live the high life for a lot less. With a monthly budget of around $1,900 a couple can eat out regularly, rent a nice apartment, and have a maid swing by your home.
Get the full list of five easy places that fit the criteria International Living's editors lay out at: Five Easy Places to Move Overseas.
Editor's Note: Members of the media have permission to reproduce the article linked above once credit is given to InternationalLiving.com.
For information about InternationalLiving.com content republishing, source material or to book an interview with one of our experts, contact Associate Editor Carol Barron, 772-678-0287 (US), CBarron(at)InternationalLiving.com.
For 36 years, InternationalLiving.com has been the leading authority for anyone looking for global retirement or relocation opportunities. Through its monthly magazine and related e-letters, extensive website, podcasts, online bookstore, and events held around the world, InternationalLiving.com provides information and services to help its readers live better, travel farther, have more fun, save more money, and find better business opportunities when they expand their world beyond their own shores. InternationalLiving.com has more than 200 correspondents traveling the globe, investigating the best opportunities for travel, retirement, real estate, and investment.