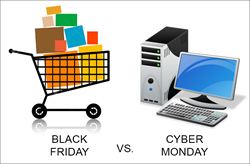 Consumers need to be aware of the positives and negatives of both days in order to decide how and where to get the most bang for their buck this holiday season.
Boston, MA (PRWEB) November 21, 2016
Thanksgiving weekend marks the biggest holiday shopping event of the year with offers on both Black Friday and Cyber Monday. The key to a successful holiday sales weekend is to research and find the best deals. In order to help consumers navigate Thanksgiving holiday sales, national nonprofit American Consumer Credit Counseling has created a list of the pros and cons of both mega deal days.
"If consumers do their research they can benefit immensely by finding the best deals during Thanksgiving holiday sales," said Steve Trumble, President and CEO of American Consumer Credit Counseling, which is based in Newton, MA. "Consumers need to be aware of the positives and negatives of both days in order to decide how and where to get the most bang for their buck this holiday season."
According to CNBC last year's Thanksgiving weekend sales reached $11.11 billion, which was 2.4 percent more than the expected $10.9 billion and 17 percent more than total sales in 2014. Last year, a National Retail Federation survey found that 151 million people shopped in stores and online during Thanksgiving weekend. The survey also found the average consumer spent almost $300 with 77 percent of the total purchase going towards gifts for others.
American Consumer Credit Counseling provides consumers with a list of pros and cons of Thanksgiving holiday sales:
Black Friday
Pros:
1. The thrill and adventure – shopping on Friday provides an experience like no other -- from the early start to get a good spot in line, to racing through the stores to find the deal you've been waiting all year for.
2. Unannounced surprise sales – some stores will offer a surprise sale when consumers walk through the door that was not advertised beforehand. These in store only deals are a pleasant surprise for the shoppers.
3. Sensory experience – going to the store allows the consumers to touch, feel, see and try on the products before making the purchase.
4. No shipping costs or cancelled orders – by going to the store consumers save money on shipping costs and don't run the risk of their order being cancelled.
Cons:
1. Chaotic crowds and aggressive atmosphere – Friday shoppers will likely experience an aggressive, every-man-for-themselves type of atmosphere.
2. Possibility of overspending – with the fast paced atmosphere of Friday, there is a good chance consumers will overspend by not taking the time to think each purchase through. The unannounced surprise sales and door buster deals can be very tempting.
3. Items selling out – often times there are limited quantities, which means the chances of items selling out could be very high depending on their popularity.
4. Limited time – sometimes the greatest deals are only offered through a small two to three hour window of time, usually early in the morning.
5. Early morning – Friday holiday shopping always means early mornings. Expect consumers to start lining up before the sun rises.
Cyber Monday
Pros:
1. Price comparison – with the click of a button to different websites, price comparison is made easy.
2. Time – consumers have all the time in the world on Monday, which allows them the ability to make rational decisions before purchasing.
3. Store-wide – More often than not Monday offers store-wide deals instead of just product specific savings.
4. No crowds – consumers have the ability to avoid the crowds and shop remotely using PCs, smartphones, or tablets.
Cons:
1. No door buster deals – consumers on Monday will not have access to the door buster deals shoppers on Friday can experience.
2. In store only offers – by not going to the store, consumers will miss out on the in-store only deals.
3. Shipping costs – more often than not shopping online comes with shipping costs and the agonizing four to seven day wait for the product.
4. Disappointment upon arrival – Sometimes items look different online than they do in person, which can lead to dissatisfaction and return costs. Online shopping makes it difficult to evaluate the quality of the items.
5. Sizing – Purchasing online means there could be sizing issues. The product may not run true to size and be either too large or too small.
ACCC is a 501(c)3 organization that provides free credit counseling, bankruptcy counseling, and housing counseling to consumers nationwide in need of financial literacy education and money management. For more information, contact ACCC:

For credit counseling, call 800-769-3571
For bankruptcy counseling, call 866-826-6924
For housing counseling, call 866-826-7180
Or visit us online at http://www.ConsumerCredit.com
About American Consumer Credit Counseling
American Consumer Credit Counseling (ACCC) is a nonprofit credit counseling 501(c)(3) organization dedicated to empowering consumers to achieve financial management through credit counseling, debt management, bankruptcy counseling, housing counseling, student loan counseling and financial education concerning debt solutions. In order to help consumers reach their goal of debt relief, ACCC provides a range of free consumer personal finance resources on a variety of topics including budgeting, credit and debt management, student loan assistance, youth and money, homeownership, identity theft, senior living and retirement. Consumers can use ACCC's worksheets, videos, calculators, and blog articles to make the best possible decisions regarding their financial future. ACCC holds an A+ rating with the Better Business Bureau and is a member of the National Foundation for Credit Counseling® (NFCC®). For more information or to access free financial education resources, log on to ConsumerCredit.com or visit http://www.consumercredit.com/financial-education.aspx