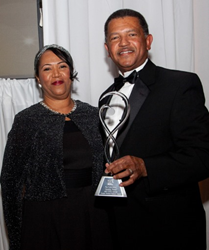 (PRWEB) November 21, 2016
The Greater Women's Business Council (GWBC) brought the boom of the Roaring Twenties to Atlanta during its Annual Ladies Achieving Continuous Excellence (LACE) Awards held at The Fox Theatre on November 10. With The Great Gatsby as the backdrop, the region's certified women business enterprises (WBE) and business entities that support them, gathered in a star-studded evening that celebrated their unparalleled achievements in supplier excellence.
Atlanta-based Georgia Power had a great night, snagging three out of four possible corporate wins. In addition to the coveted Corporation of the Year Award, Georgia Power took home the prized Voice Award and Buyer of the Year Award (Jodie Black). Todd Gray of Grady Health System was named Advocate of the Year for his unbridled passion and support for women businesses.
The centerpiece of the evening was the WBE winners from across Georgia, South Carolina and North Carolina, whose accomplishments underscore GWBC's mission and purpose. It's My Affair received the Category I Trailblazer Award, Confero took Category II Trailblazer Award, Category III Trailblazer went to MySupplies, while Category IV Trailblazer Award went to Softpath System. Gail Moore of Custom Plastics and More was named Volunteer of the Year for her tireless support and participation with GWBC.
The evening included the signature LACE Silent Auction and Reception; as well as Party At the Limit Band, who jazzed things up with sizzling selections from the decades. Special award recognitions went to The Federal Reserve Bank of Atlanta's Mary Kepler as GWBC's outgoing Chair of the Board of Directors; as well as the Small Business Administration's and Obama-appointee Cassius Butts for his unwavering commitment to the growth and development of GWBC. Legacy Partners were awarded with special gifts for their 10 years of service with GWBC.
Much like the pages of The Great Gatsby -- financial empowerment, style and the pursuit of the American dream all came together on one night in celebration of the economic impact created for and by women-owned businesses.
To learn more about GWBC, visit http://www.gwbc.biz. Media should contact Nichole Taylor at taylor(at)taylorcommunicationsgroup(dot)com for photos/video and more information.