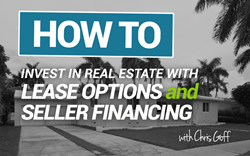 Start right by attending this 2-day training because too many people start wrong! 100% Education - Nothing will be sold!
Los Angeles, CA (PRWEB) November 22, 2016
Real estate investor, mentor, and world-renowned real estate investing advisor, Chris Goff, recently announced December 10th and 11th as the set dates for his 2-day 'LIVE' real estate investing workshop in Los Angeles, CA. This is the last scheduled workshop for 2016, and will have a primary focus on what it takes to correctly execute lease options and invest in pre-foreclosures in the state of California, as well as other markets throughout the country. Chris has been a featured guest speaker on these topics, broadcast on ABC, CBS, NBC, FOX and in the USA Today.
Creative financing strategy #1- Lease option investing
With lease options, say goodbye to the expensive, high maintenance rental business. Learn how to control real estate with little to no money down or use credit.
Creative Financing Strategy #2 - Pre-foreclosure investing
Learn how to work with people facing foreclosure ethically, how to find them in seconds, research the data, pull comparable sales, contact owners and close the deal. Learn to maximize return on investments by investing in pre-foreclosures instead of putting down 20% with traditional banks.
What to expect at this 2 day training:
No more boring, lecture hall speakers and program peddlers. Get ready for real education, real networking, real excitement and real success.
At this energetic, info-packed workshop, Attendees will learn…

How to find the deals, where to look, what neighborhoods are best and how to identify these hidden opportunities.
How to pay the seller full price and still make money.
How to research everything you'll need to know about a property so you can make wise investment decisions.
How to contact the owner, but what to say, when to say it and why you're even saying it.
How easy it is to find contact information for those hard to find sellers
How to inspect a property the correct way, determine costs and why you shouldn't spend much time doing it.
How to make mutually beneficial offers, not just one offer, but multiple offers on every lead and how to get the seller to say yes.
How to put the house under contract, the paperwork required, how to fill them out and how to get the seller to sign it.
How to secure your deal so the seller doesn't go around your back and sell to someone else.
How to market for buyers, who they are, where they are and how to get them to call you.
Attendee's will experience 2 full days of valuable education, not a 2-day pitch just to get you excited about real estate. Chris Goff is the best at teaching average people to become wealthy in Real Estate with simple, time-tested methods that work in every market, and will be teaching real action steps that can be used immediately. Attendee's will be shocked at how simple this business really is, once shown the right steps to take and how to avoid the pitfalls many companies fail to teach. Los Angeles and many other cities are some of the hottest areas for real estate investing, so take advantage of what's happening right at home!
As always, Chris is focused on what's important to people struggling with the insecurities of a fluctuating economy- learning how to make money through intelligent investing, and providing financial independence.
Chris Goff will be joined by a guest presenter, Best Selling Author and the co-founder of REIPro software, Bo Manry. Bo will spark your brain with the most effective ways to market a real estate investing business, using current, cost-effective, readily accessible outlets such as SEO, google adwords, and social media.
A little about Chris Goff:
Chris Goff started Real Estate Investing in 1999. Chris didn't have any money to work with, so he was interested in learning 'no money down' strategies. He absorbed any and every bit of information he could find on the subject, and started on his first deal. Chris was lucky enough to break even on the deal, and quickly learned that not all information is good information.
Chris continued, learning as he went from his mistakes, and began to see some pretty amazing results. Chris took what he learned from others and combined it with what he had learned by trial and error, to develop a system for investing that would produce as much income as possible, without many of the pitfalls that can be found in real estate investing. In his first 18 months, Chris Goff completed 46 deals with no money down. The impressive level of success his clients have achieved has resulted in Chris receiving several prestigious awards and accolades in the real estate investing industry. Anyone can do real estate, many can speak about it, but not everyone can Teach it to others. In this, Chris Goff has a genuine gift.
Chris Goff recently hit two amazon best-seller lists with the new book, "UNcommon" with the legendary New York Times best selling author, Brian Tracy.
"Chris Goff is one of the most sought after real estate educators in the country. He has spent his whole life helping others succeed in Real Estate."
Brian Tracy - New York Times Best Selling Author
To learn more about the information provided in this press release or upcoming Chris Goff live workshops, the following is available:
Contact:
Michelle Stevens
contactus(at)chrisgofflive(dot)com
800.975.8718
http://www.chrisgofflive.com