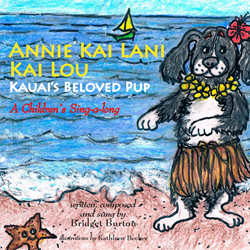 "Annie Kai Lani Kai Lou is about a pup on Kauai: her shenanigans and adventures," said Bridget. "It was written to be sung or read--so it's a great learning experience for early readers."
Los Angeles, California (PRWEB) December 01, 2016
Rockit Press is pleased to announce the release of Bridget Burton's first illustrated children's book, Annie Kai Lani Kai Lou: Kauai's Beloved Pup (http://www.anniekailani.com). The book features the rambunctious, adventuresome and alluring Springer Spaniel named Annie Kai Lani Kai Lou in Kauai. Whimsical illustrations created by artist Kathleen Becker capture Annie's boundless energy as she surfs in Poipu Beach, watches spinner dolphins on the Na Pali coast, zip lines and even pilots a helicopter to get a better view of the island.
Published by Rockit Press in Los Angeles, the book contains 10 verses of Annie's escapades. Children, their parents and grandparents can read the book or sing along with Bridget, who sings the verses as part of a separate CD, complete with Hawaiian steel guitar and ukulele. Designed for early readers, the book is a great Holiday gift idea or used as a travel guide for families in search of exciting and captivating adventures in Kauai and other Hawaiian islands.
"I visit Kauai regularly and, of course, fell in love with the island life. It seemed only natural to combine my love of Kauai and the Hawaiian islands and my love of my real Springer Spaniel Annie into a children's book," said Burton, who has been a writer, business consultant and singer for more than 20 years.
A book signing is planned at Warwick's Book Store located at 7812 Girard Avenue in La Jolla, California on Saturday, January 14, 2017 from 12 Noon to 2 PM. Readers can also purchase the book at bookstores or online at Amazon.com or Barnes & Noble. The accompanying CD can be purchased through http://www.cdbaby.com or via the Web site at http://www.anniekailani.com. Readers can communicate further with Annie Kai Lani Kai Lou via her Pinterest account, https://www.pinterest.com/anniekailani/ or her Instagram account, https://www.instagram.com/anniekailani/.
For further information, contact Shauna Shapiro Jackson at Rockit Press at 818-850-3025 or email her at shauna(at)rockitpress(dot)com or contact Bridget Burton at anniekailani(at)gmail(dot)com.