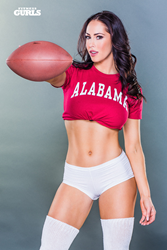 With a couple of big games left, we want to showcase maybe not the best, but our favorite college football teams of 2016
Los Angeles, CA (PRWEB) November 21, 2016
Fitness Gurls Magazine is featuring their "Top 10" Favorite College Football programs today. Hope Beel, one of Fitness Gurls Magazine's top Sponsored Athletes will be the model starring in this feature. Hope Beel wears sexy outfits themed from each of the 10 college football teams utilizing lifestyle college t-shirt brands. The "Top Ten" college football teams' attire featured in the shoot are Alabama, Auburn, LSU, Florida State, Michigan, Ohio State, Oklahoma, Texas, Texas A&M and Clemson.
November/ December marks the crazy and wild college football season. Fitness Gurls Magazine is honoring and paying homage to this creative shoot with Hope Beel. Fitness Gurls Magazine's Editor-in-Chief Jason Miller says, "With a couple of big games left, we want to showcase maybe not the best, but our favorite college football teams in 2016." A special thank you goes out to the photographer Brett Seeley (@seeleyfoto) for capturing the pure essence of a college football fan and making it sexy for the Magazine.
To view the feature go to:
http://www.fitnessgurls.com/blogs/college-football/
About Fitness Gurls Magazine: Fitness Gurls Magazine is one of the upcoming magazines in the Fitness space. Fitness Gurls Magazine covers health, fitness, nutrition, exercise routines and showcases some of the most beautiful women in the world of sport, fitness, and entertainment. Fitness Gurls Magazine has been compared to a Maxim for Fitness. Fitness Gurls has been around for 5 years and is distributed nationwide in Barnes & Noble and Books-a-Million.
Stay connected to Fitness Gurls Magazine - @fitnessgurls