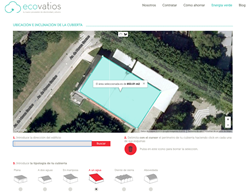 Self-consumption projects make good economic sense in Spain, with payback period times of 6 to 9 years.
Madrid, Spain (PRWEB) November 23, 2016
• Investments in self-consumption PV industrial and commercial projects are paid back in 6 to 9 years

By using 25% of the already built-up surface in Spain, enough energy could be generated with PV to equal its yearly electricity consumption
With this initiative, ecovatios becomes the first 100% green power retailer in Spain to actively promote photovoltaic projects for industrial, commercial and institutional clients. The company has launched an online service (https://ecovatios.com/autoconsumo), based on aerial imagery technology that allows the company to generate project proposals in less than 24 hours.
The Spanish green utility recalls that self-consumption, which is regulated in Spain since October 2015 by RD 900/2015, is profitable and allows companies to become more competitive by hedging an important part or their future energy budget. Carlos García Buitrón, CEO of ecovatios, said "Even with our far from perfect legal framework, and mainly due to the radical fall in PV technology costs, self-consumption projects make good economic sense in Spain, with payback period times of 6 to 9 years, and savings ranging from 15% to 40% on the client´s electricity bills."
According to the CEO of ecovatios, solar is quickly changing how electricity consumers can interact with their energy suppliers around the world, and Spain should be no exception. "Spain has one of the highest solar resources in Europe, and we have a huge and basically untapped potential in the form of vast areas of industrial, commercial and public roof space. According to EUROSTAT, the total built-up area in Spain in 2012 was 6268 km2. Using 25% of that area, it would be possible to generate energy equivalent to the 263 TWh of electricity consumed last year in the country". "Solar self-consumption is introducing everywhere a paradigm shift in the power sector, and there is no reason why Spain should be different in that respect. Solar projects will allow businesses and institutions to assume an active role as consumers, helping them reduce their power bills while achieving a positive impact on the environment."
Self-consumption can particularly benefit companies with intensive electrical consumption patterns, where self-generated energy results in little or no surplus being fed into the grid. This is the case of many public, industrial and commercial buildings. Within the industrial segment, some sectors are especially well suited to benefit from self-consumption like, for instance, pharma, chemical or the agribusiness. Also, many companies within the service sector can use solar profitably to reduce their electricity bills, like, for example, supermarkets, big box retailers, hotels, nursing homes or data centers.
About ecovatios
ecovatios® is a trademark owned by Renewable Ventures S.L.U., a 100% green power retailer. The company was founded in 2014 and operates in the Spanish peninsular market under the code R2-566 granted by CNMC.