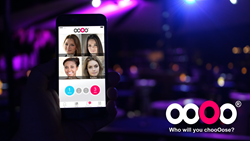 ooOo wins 'Best New Dating Brand' at the UK Dating Awards 2016
Chester, Cheshire (PRWEB UK) 22 November 2016
London 17th of November, saw the hosting of the 3rd annual UK Dating Awards, the largest gathering of the dating industry owners and experts in the world. Dating app, ooOo was awarded the "Best new dating brand" as well as being a finalist for "Dating Innovation".
The glamorous and glitzy black tie event was attend by over 200 industry representatives at London's Honourable Artillery Company building and hosted by awards founder Charly Lester and comedian James Veitch. A professional panel of judges review and test all products throughly over a 2 week period to determine the winners.
Launched for iOS and Android earlier this year by entrepreneur David Minns, ooOo is a gamified mobile dating product that works by showing you four potential matches at a time, and asks you to select one and reject three. The app then continues to show more sets of potential matches based on user preferences, and if the user picks someone who has also mutually liked them, they are both given access to an instant messenger to start communicating.
ooOo also focuses on privacy and security using password encryption techniques that require over 7,000 years of computer power to hack and operates with the minimal amount of personal information. The app operates efficiently with low speed connections and even works with no phone signal at all.
And despite strong competition from other new brand finalists, Did I See You, JawDrop, JigTalk and Temptr the judges agreed the unique gamified concept, as well as its strong security features made ooOo the "Best new dating brand".
Founder and creator, David Minns commented, "Last month ooOo won the Global Dating Insights national dating startup award and now to be crowned, best new dating brand at the UK Dating Awards is a fantastic start for our unique dating app."
ooOo can be downloaded from: https://oooo.dating