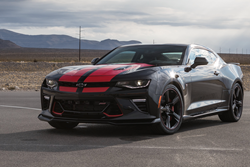 Tallmadge, Ohio (PRWEB) November 21, 2016
Chevrolet Performance used the 2016 Specialty Equipment Market Association (SEMA) show to unveil performance and dress up parts for the sixth-gen Camaro. Chevrolet Performance showcased a wide range of upgrades ranging from axle-back exhaust systems to blacked-out tail lights—on a SS V8 and an LT V6 Camaro.
Summit Racing built a series of Chevrolet Performance Parts Combos that demonstrate how sixth-gen Camaro owners can upgrade their iconic pony cars with official Chevrolet Performance equipment. The combos are an excellent way to squeeze more performance and style from the sixth-gen Camaro using factory-designed parts.
CHEVROLET PERFORMANCE SEMA 2017 CHEVY CAMARO LT INTERIOR, EXTERIOR, AND PERFORMANCE COMBOS
Chevy got a ton of press when it announced the new Camaro was getting a new version of its venerable series of DOHC V6 engines. Though already potent at 335 ponies, Chevrolet Performance makes upgrades to squeeze more power from the LGX V6. Moreover, many of the styling components aren't exclusive to trim levels, which means spoilers, wheels, floor mats, and other dress-up bits from these combos will fit on every 2016-17 Camaro.
CHEVROLET PERFORMANCE SEMA 2017 CHEVY CAMARO SS INTERIOR, EXTERIOR, AND PERFORMANCE COMBOS
The SS sits near the top of the Camaro heap, so the Chevrolet Performance catalog is chock-full of power-adders for its LT1 V8. The Performance Combo includes bigger Brembo® brakes, an axle-back exhaust, and an aggressive new suspension. There is also a pair of dress-up combos to make sure your Camaro looks as good as it performs.
Modifying a vehicle with these parts might not be emissions-legal in your state—check state and local laws before ordering.