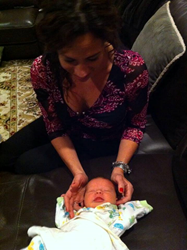 "Parents love our holistic approach to caring for their children over risky treatments, medications or surgery and women report better pregnancies and easy births."
(PRWEB) November 23, 2016
Dr. Nicole Rothman is proud to announce that she has been granted Certification by the Academy Council of Chiropractic Pediatrics (CACCP) in the International Chiropractic Pediatric Association's (ICPA) renowned Certification Program. The ICPA offers Doctors of Chiropractic an opportunity to achieve certification in family wellness chiropractic through advanced academics and clinical studies. The 200-hour curriculum provides the doctor with techniques and protocols of care for children and pregnant women. The 16 module program covers advanced levels of training and expertise additional to what is offered in chiropractic colleges. By being certified, Dr. Rothman is recognized for her completion of ICPA's 14 classroom modules taught by the today's leading authorities in family chiropractic and two in-office Practice-Based Research Network projects, which substantiate both practical and evidence informed clinical competencies. Dr. Rothman is granted her Board Certification from The Council of Chiropractic Pediatrics of the Academy of Chiropractic Family Practice (ACFP). Dr. Rothman has been designated with the CACCP credentials and proudly remains a member of the ICPA.
"My practice has been a family practice with approximately 40% of the patient base pediatric since 1998. This additional expertise will be valuable in helping a wider range of children function better including those have been diagnosed with ADHD, autism, auto immune issues, bedwetting, asthma, reflux, colic, plagiocephaly, difficulty breastfeeding and much more. Parents love our holistic approach to wellness in lieu of risky treatments, medications and surgery." For more information about Dr. Rothman's practice please visit: http://www.drnicole.com. For more information about the ICPA, please visit: http://www.icpa4kids.com