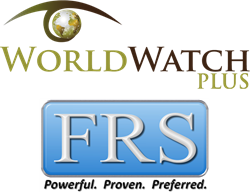 Today's global sanctions data, refreshed daily from more than 1,600 official sources.
Kennesaw, GA (PRWEB) November 21, 2016
International Screening Solutions, a global sanctions software and screening firm, today announced that its WorldWatch Plus® global sanctions product has been integrated into the screening industry platform of FRS. This integration allows FRS to deliver industry-leading global sanctions and watch lists, adverse media and politically exposed persons (PEP) data to thousands of consumer reporting agencies and their clients. FRS delivers the service under the name Global Security Search, part of its DataLinX product line.
WorldWatch Plus is preferred in FCRA-regulated settings because it delivers current global sanctions information, refreshed daily from more than 1,600 official sources. In addition, WorldWatch Plus provides information from more than 1,100 PEP sources around the world, and has a growing archive of more than 5.4 million adverse media stories. The solution covers more than 200 countries.
"We are excited and honored that FRS has chosen WorldWatch Plus to enhance its product offerings," said Ken Kunsman, chief marketing officer at ISS. "With an increasingly global workforce and economy, today's global search is the logical evolution of yesterday's multi-state search."
WorldWatch Plus provides report capture and audit capabilities, multiple identifier result prioritization, and other tools to help companies comply with their FCRA-regulated screening programs. WorldWatch Plus also has separate instances to support due diligence operations, including an EU-specific instance for compliance with EU directives for data privacy.
"Providing the latest and most up-to-date information for the background screening needs of our valued clients and their customers has always been at the heart of the services that we strive to offer", said Phil Chapman, President at FRS. "We are extremely pleased to bring these new global search products with uniquely flexible configuration options to our clients and are excited about how these will help improve their businesses."
About FRS
As the background screening industry's most widely used technology, FRS offers B2B clients background screening solutions that attract and maintain top customers who demand accuracy and speed. The FRS suite of technology solutions has been expertly crafted over two decades to assist the users of FRS as they cater to their clients. FRS offers a comprehensive suite of flexible products and services for consumer reporting agencies (CRA), criminal research specialists (CRS) and provides the proven network that pulls all of the pieces together for their clients, the HR professionals. For more information, visit http://www.frssoftware.com.
About ISS
Founded in 2007, International Screening Solutions serves pre-employment and due diligence organizations in the United States and abroad. WorldWatch Plus® was launched in 2015 to gather global sanctions, watch list, PEP and media data from thousands of sources for anti-money laundering (AML) and "know your customer" (KYC) programs. Clients used WorldWatch Plus to conduct more than 13 million global screens on individuals and business entities in 2016. Millions more are being monitored on daily, weekly, monthly and quarterly intervals.
For more information contact:
Ken Kunsman, ISS Chief Marketing Officer, +1 678-784-7640
Elaine Golden, FRS Director of Sales, (704) 282-2320