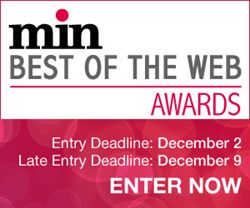 New York, NY (PRWEB) November 21, 2016
min's prestigious annual Best of the Web Awards program is now accepting entries. The competition is the industry's top honor in the digital space, recognizing outstanding social media, web and mobile initiatives among publishers of digital content—whether they are magazines, newspapers, digital publishers, etc. The entry deadline is December 2, 2016, with a final deadline of December 9, 2016.
The winners and honorable mentions will be honored at an awards breakfast in New York City in April 2017. Entries can be submitted online here.
Categories Include:

Ad Operations Team
App
Best User Experience
Blog
Content Marketing Program or Campaign
Contests/Quizzes/Sweepstakes
Data Utility Product
Digital Excellence
Digital Magazine
Digital Marketing
Digital Team of the Year
Ecommerce
Editorial Excellence (B2B)
Editorial Excellence (B2C)
E-letter Design
Email Newsletter/s
Integration with Print
Microsite/Custom Website
Mobile Site
Multi-Media Feature
Piece of Native Advertising Content
Piece of Viral Content
Podcast
Redesign/Relaunch
Social Media
Use of Animation or Motion Graphics
Use of Infographics
Use of Photography
Video Series
Video: Overall Use of Video
Website Design
To be eligible to enter, the content, program or campaign must have taken place (either in part or full) between December 1, 2015 and December 1, 2016. Some of the work must have occurred during this time, but it's not necessary for it to be completed during the eligibility period. The campaign/program can still be in progress.
For any questions regarding min's Best of the Web Awards, contact min's Zoe Silverman at zsilverman(at)accessintel(dot)com.
About min:
min is the industry's trusted source on the consumer and b2b magazine business, reaching thousands of media executives through print, online and in-person events. For more than 60 years, min has been serving the magazine and media community with unparalleled coverage of this ever-changing industry. For more information, visit http://www.minonline.com.