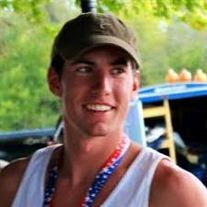 Polk City, Florida (PRWEB) November 23, 2016
The USA Water Ski Foundation is proud to support the Colton King Award. King, a successful and inspirational 3-event collegiate water skier, was lost to a sudden bicycle accident the morning of March 23rd, 2015. He was commuting to his internship with the Kohler Company, in Kohler, Wisconsin. At the age of 22, he was a semester shy of graduating.
Colton demonstrated an ability that is often overlooked, balancing water skiing with academic excellence through teamwork. The Colton King Award would commend a Midwest Team with the highest average fall semester GPA among the 6-9 Midwest Teams who compete at the National Tournament. In February at the 2016 Midwest Winter Conference, the Colton King Award was unanimously approved by the MCWSA board, collegiate captains, and Colton King's family. The basic premise of the award is to reimburse a Midwest collegiate team's national tournament expenses in order to help reward the team for working together to be competitive on the water and in the classroom. Essentially, the Midwest team with the highest team average GPA that competed at the national tournament would win the award.
The award will help relieve a deserving team of their National Tournament trip expenses (travel, lodging, entries fees) through means of a capped grant and presented at the annual Midwest Collegiate Winter Conference each February. An award of which directly reflects Colton King's astonishing work ethic, and is an honorable way to keep his spirit alive within Team Midwest.
To contribute to the newly instituted Colton King Award, please do so by visiting the main-page of http://www.usawaterskifoundation.org and contributing on Colton King Award section: http://www.usawaterskifoundation.org/colton-king-award-grant