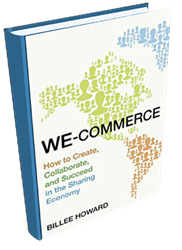 "The sharing economy isn't just for Uber and Airbnb. It's for winning content marketing strategy," says author Billee Howard.
New York, NY (PRWEB) November 28, 2016
"We-Commerce," a bestselling book designed to help enterprising industry leaders transform their business models and navigate toward success in uncharted landscapes, predicts that the fast-evolving Sharing Economy will impact everything from commerce to communication in 2017 and beyond. Written by veteran communications executive and trends forecaster, Billee Howard, "We-Commerce" is a guide that helps companies create collaborative approaches to creative marketing, culture building and communication. For a limited time, visit Brandthropologie.com to download the complete trends report for free.
Over the last several years, we have watched the world move from one centered around the 'me' to one focused on the 'we' everywhere across culture and commerce. Major companies founded less than a decade ago, like Uber and Airbnb, have quickly advanced - and that exponential growth has urged society to embrace the idea of collaboration across all walks of life. As 2017 approaches and business leaders adapt, "We-Commerce" predicts the next area to be impacted by the imprint of the sharing economy will be collaborative driven marketing and communications.
"The sharing economy isn't just for Uber and Airbnb. It's for winning content marketing strategy," says author Billee Howard. "During the 2017 planning period, leading CMOs will need to find ways of inculcating the idea of sharing into their communication strategies for the year ahead. The most effective way to move ahead is by creating collaborative communication platforms that help transform brands into publishers of authentic and engaging content."
As a new approach to business continues to flourish amidst the "we" or collaborative economy, a corollary collaborative approach to marketing and communication becomes imperative. At the heart of tackling this new reality, is building collaborative ecosystems for brands that drive two-way communication.
"Platforms aren't just for business. They are for winning communication," says Howard. "Platform content models that bring together producers and consumers as Uber and Airbnb do in the commerce arena are capturing increased market share and transforming how competitive edge is achieved. Yesterday it was through product differentiation. Today it is through scale and impact."
Leading companies seeking to mimic the cutting edge collaborative content platform efforts of high-profile brands like IBM and Marriott should think of themselves as entertainment studios seeking to inform and entertain target customers.
"In 2017, every CMO should think of themselves as the executive producer of their brand," says Howard.
To start thinking about collaborative content platform creation, Howard suggests following this type of three step process in the year ahead as follows: Development - Think of a brand story as a movie that is being written and cast; Production - Think of your content platform as your movie set; Distribution - all the ways in which you can sell tickets to your show.
"By using storytelling as a business competency that comes to life through the use of the very framework that has reshaped our economy, brands can shine as much as purveyors of winning content as winning product, and do so in ways that well poises them for long-term growth," says Howard.
Learn more about trends all CMOs should know to grow a business brand in the New Year. For a limited time only, download the complete trends report for free: http://brandthropologie.com/2017-trends-report-full.
Order a copy of "We-Commerce." Book Website: http://brandthropologie.com/we-economy-new-trends-business-books/
###
About "We-Commerce":
"We-Commerce" is a bestselling book that will teach you how to transform your business model so that you and your brand are in step with today's key business mandates. Named the best business book by CIO Inc., "We-Commerce" offers the insight you need to become a true "artist of business," to introduce creativity into everything that your brand produces, and to help you navigate the newly created and largely uncharted business landscape while innovating your way to success. Visionary strategist – Billee Howard – lays out her plan for a new model of success and long-term, purposeful profitability in the new global, collaborative economy. It is an age of WE-Commerce, and economy centered on the power of "we" instead of "me," focused on the needs of the many over the few. With advice from "stay small but include all" to "profit with purpose" and "embrace disruption," Billee Howard gives you the reinvented business tool-kit that your need to effectively, collaborate, co-create, and succeed in a We-Commerce landscape – and to acquire a new set of skills to position you as a leader in the transformed economy.
About Billee Howard:
Billee Howard is Founder + Chief Engagement Officer of Brandthropologie, a cutting edge consultancy specializing in helping organizations and individuals to produce innovative, creative and passionate dialogues with target communities, consumers and employees, while blazing a trail toward new models of artful, responsible, and sustainable business success.
Billee is a veteran communications executive in brand development, content creation, trend forecasting, reputation management, and corporate and C-suite executive positioning. She has a book dedicated to the study of the sharing economy called "We-Commerce" released in December 2015 as well as a blog entitled the #HouseofWe dedicated to curating the trends driving our economy forward. She is also a regular contributor to Forbes and Huffington Post on the topics of marketing, storytelling and the collaborative economy.
Billee Howard's business -- Brandthropologie Media -- has become a go-to consulting firm on the Sharing Economy and the corollary collaborative approaches to communications and marketing required to succeed in today's market. Howard's production studio -- Mojo Risin -- is a digital company that creates content platforms and programming for brands that appears genuine, unaffected, socially responsible, purposeful, and user generated. The production studio's mission is marrying business and entertainment, reality and scripted programming for brands, that creates authentic engagement with consumers and works to achieve desired business outcomes.