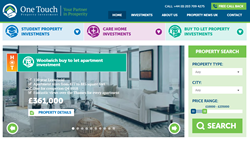 Since the launch of our new visually engaging website, we have seen a lower bounce rate and users tend to spend a longer amount of time on the site.
(PRWEB UK) 22 November 2016
Over the past few months, One Touch Property has updated their website to ensure it complies with new UX and design criteria. One of the most pressing reasons why One Touch was so keen to have their website redesigned was to ensure it was mobile-friendly and responsive, as Google now penalises website which are not. The new website is also more closely aligned with the company's new branding, and includes the new logo and company colours. It is also worth noting that the url has changed to more closely reflect the company name, from investmentrentalproperty.co.uk to onetouchinvestment.co.uk.
Users will now be able to easily identify all different types of investments on offer, from student property investments to buy to let property investments. Each sector is colour-coded to ensure that they can be distinguished between quickly. Information is presented in a more visually engaging way, with a feature slider displaying the latest property investments, and key features displayed in a checklist format.
One of the new website's most innovative features is the ability for a user to request a call back and specify a timeframe in which they wish to be contacted. This allows sales teams to contact potential investors at a time which is convenient for them, enhancing their overall experience and allowing better communication with overseas investors.
Arran Kerkvliet, investment director at One Touch Property, comments "the new website allows for sales staff and potential investors to work together in a more cohesive manner. Users can complete forms on the new website that detail what investments they are searching for. This information is then integrated into our CRM system so sales staff know which properties they should present."
"Since the launch of our new visually engaging website, we have seen a lower bounce rate and users tend to spend a longer amount of time on the site. We believe this is because the website has the functionality to present more relevant information to the user and they have more opportunities to explore our site. We have also noticed that our website is performing better when we analyse it using certain SEO tools such as Alexa."
The aim of the website redesign was to ensure that users have a better experience and to eliminate factors that would have a detrimental effect to search engine rankings. Through implementing new best practice guidelines One Touch Property aims to be the property investment company that champions the digital age, providing investors with information using modern techniques instead of through a stifling corporate medium.
One Touch Investment welcomes feedback on their new website. Entrants will have the opportunity to win a £50 M&S voucher by following the link above and sharing their thoughts.