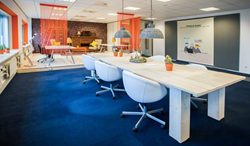 If you think about what is happening in business nowadays, we are seeing a trend towards nomadic working lifestyles.
(PRWEB UK) 22 November 2016
Spacebase, an online meeting room booking service co-founded by Oxford MBA alumnus Julian Jost, has launched its first operation in the US market, making 200 unique spaces available in New York. With its headquarters in Berlin, Spacebase is building on its success in Europe offering unusual and quirky meeting spaces that enable companies to meet a demand for innovative and creative thinking.
After completing an MBA at Saïd Business School, University of Oxford, Jost launched Spacebase with long-time friend Jan Hoffmann-Keining in 2014, with the aim of providing a sharing economy solution for meeting places, and it has since established itself as one of Europe's largest online meeting room booking platforms. "If you think about what is happening in business nowadays, we are seeing a trend towards nomadic working lifestyles. People need more flexibility, and that's exactly what we are offering," said Jost.
Jost believes that if chosen correctly, spaces can have a real impact on the effectiveness of a meeting. He recalls talking to a consultant firm who were delivering some individual training sessions for their managers. "These were very personal, and very psychological. However, they held the sessions in a cold, windowless hotel room and consequently, the managers found it hard to talk openly about themselves," he said. "In our estimation the average employee spends 31 hours in meetings a month, costing US businesses alone $106 billion, so the effectiveness of these meetings is paramount."
Spacebase now offers over 2000 locations for companies to choose from in more than 30 cities across 12 countries, including Paris, Munich, Johannesburg, Hong Kong and Tel Aviv. These range from the practical to the surreal, and include a boxing gym and a boat. However, Julian explained that it is the subtle meeting places that he finds most exciting. "In New York we have a space called the centre for social innovation, which is designed for companies with a social purpose. It has a unique vibe that people will find really inspiring."
Jost and Hoffman-Keining see the US market as a natural progression for the start-up, which has rapidly expanded since its launch in 2014. "Originally, the launch in New York was to accommodate the demand of our clients, but now we are seeing that NYC has become our fastest-growing market, thanks to the high speed growth of the sharing economy and the demand for flexibility," said Hoffmann-Keining.
To speak with Julian Jost, please contact the press office:
Tom Pilsworth, Press Coordinator, Saïd Business School
T: +44 01865 288879 M: +44 07753277689
Email: thomas.pilsworth(at)sbs(dot)ox(dot)ac(dot)uk
Josie Powell, PR Manager, Saïd Business School
Tel: +44 (0) 1865 288403 Mobile: +44 (0)7711 387215
Email: josie.powell(at)sbs(dot)ox(dot)ac(dot)uk or pressoffice(at)sbs(dot)ox(dot)ac(dot)uk
About Saïd Business School
Saïd Business School at the University of Oxford blends the best of new and old. We are a vibrant and innovative business school, but yet deeply embedded in an 800 year old world-class university. We create programmes and ideas that have global impact. We educate people for successful business careers, and as a community seek to tackle world-scale problems. We deliver cutting-edge programmes and ground-breaking research that transform individuals, organisations, business practice, and society. We seek to be a world-class business school community, embedded in a world-class University, tackling world-scale problems.
In the Financial Times European Business School ranking (Dec 2015) Oxford Saïd is ranked 10th. It is ranked 1st in the UK and 9th worldwide in the FT's ranking of open enrolment programmes (May 2016) and 28th in the world in the FT ranking of MBA programmes (Jan 2016). The MBA is ranked 7th in Businessweek's full time MBA ranking outside the USA (Nov 2014) and is ranked 5th among the top non-US Business Schools by Forbes magazine (Sep 2015). The Executive MBA is ranked 2nd worldwide in the Economist's Executive MBA ranking (Sep 2015) and 9th worldwide in the FT's ranking of EMBAs (Oct 2015). The Oxford MSc in Financial Economics is ranked 11th in the world in the FT ranking of Masters in Finance programmes (Jun 2016). In the UK university league tables it is ranked first of all UK universities for undergraduate business and management in The Guardian (Jun 2016) and 2nd in The Times (Sept 2016). For more information, see http://www.sbs.ox.ac.uk/