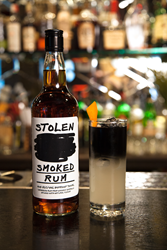 Chicago, IL (PRWEB) November 22, 2016
Another year on the naughty list for STOLEN, the subversive creators of the world's first Smoked Rum. And when Kris Kringle gives you a stocking full of coal, what do you? Certainly not wipe away your tears with sooty hands. You make activated charcoal cocktails and celebrate being #NaughtyAllYear.
As part of the #NaughtyAllYear campaign, STOLEN dealers are hitting the streets to deliver little baggies of activated charcoal to bars and mixologists across the nation. Though tasteless and odorless, activated charcoal has recently emerged in the underground cocktail scene as an easy way to turn cocktails coal-black while also softening the mouth-feel and texture of any drink. Many also swear by the trending ingredient's detoxifying benefits, especially when it comes to hangovers.(1,2 )
"STOLEN Smoked Rum started from the desire to create spirits that break with convention and essentially reinvent rum as know it," said Samira Seiller, Global Managing Director of STOLEN Spirits. "STOLEN drinkers are equally irreverent, so we're embracing our dark side with cocktail creations that give our consumers a good reason to stay on the naughty list year 'round."
STOLEN Smoked Rum begins with premium Caribbean aged rum infused with 100% natural ingredients sourced from around the world – roasted Colombian Arabica coffee, Madagascan vanilla beans and Moroccan fenugreek. The final product is rounded off with smoky tones of American Hardwood and the result is a smooth, medium-weight body and a generous bouquet. On the palate, the deep profile of freshly brewed coffee, vanilla beans, warm caramel and dark chocolate mix with lingering wisps of charred oak for a smooth, smoky finish. STOLEN can be enjoyed neat but also stands up in all kinds of interesting cocktails.
STOLEN Smoked Rum can be found in liquor stores in select markets for the suggested price of $23.99 per 750mL bottle. Activated charcoal can be found in most health food stores across the country, so home cocktail enthusiasts can shake up their own black creations.
Expect to see a variety of STOLEN Smoked Charcoal Cocktails throughout the holiday season and beyond. Because being on the naughty list isn't just for the holidays, it's a year around affair.
For additional information and #Naughtyallyear cocktail ideas, connect with STOLEN by visiting the brand's Facebook and Instagram pages. Naughty media interested in samples of STOLEN Smoked Rum, Activated Charcoal or cocktail recipes can reach out to STOLEN's Social Deviant, joie(at)stolenrum(dot)com
Back in Black
Origin: Stolen from Martin McLoughlin for David Burke Kitchen, New York City, USA.
½ oz Chartreuse
1 sprig Rosemary
1 ½ oz STOLEN Smoked Rum
½ oz Ginger Syrup
¼ oz Freshly squeezed lemon juice
¼ oz Freshly squeezed lime juice
½ oz simple syrup
Pinch of activated charcoal
Add Chartreuse and rosemary to glass. Shake other ingredients with ice. Ignite chartreuse in glass for 10 seconds and then strain contents of shaker over flame to extinguish. Serve in rocks over glass of ice. Garnish with rosemary sprig.
Fade to Black
For the home cocktail enthusiast
2 oz STOLEN Smoked Rum
3 oz ginger beer
Juice of half a lime
Mix ingredients and sprinkle activated charcoal over drink. Serve over ice and garnish with citrus rind.
Contact:
Joie Mikitson
joie(at)stolenrum(dot)com
About STOLEN
Take Responsibly. STOLEN Smoked Rum is 84 proof. Staying true to our craft, STOLEN unearths unique spirits of uncompromising quality that break with convention.
Footnotes
1. Cocktails go "goth" with ingredients like black sesame and activated charcoal that turn the drink a black hue. USA Today, August 2016
2. In the medical world, it's used to offset the effects of drug overdoses. Activated charcoal — the kind you've likely seen — has been treated in a way that, according to at least some medical professionals, "makes it ideal for removing potentially toxic substances from the digestive tract." Grub Street, January 2016