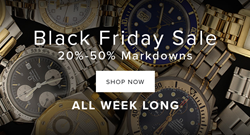 Shop our curated selection of brands, view a watch live before your purchase, and be confident in your purchase; it's backed by an authenticity guarantee and a one year warranty.-George Fatakhov
New York, New York (PRWEB) November 22, 2016
Holiday sales bring about excitement for many; prices drop, but moods skyrocket. Shoppers luxuriate in the savings they secure from retailers across the country, and these days, the entire globe. What better time to officially announce the launch of their redesigned website than with an occasion such as this? That is exactly the mentality Phigora, the reputable retailer of second hand luxury goods, had when deciding to run their week long holiday sale.
Between Monday, November 21st and Monday, November 28th, Phigora will feature a curated selection of pre-owned watches at 20-50% markdowns. This selection will include hand picked watches of top brands including Rolex, Cartier, Breitling, Chopard, and Omega.While Phigora is well-known for their already below-market prices, this week's sales will take it to the next level.
Phigora recently incorporated new features into the site that will further promote the upcoming sale. Part of their mission to provide customers with the best possible experience while shopping includes the ability to "request a live viewing." This allows prospective customers to view their products via video-screenshare in real time. When dealing with high-end watches and jewelry, details matter. Seeing a product via live video allows customers to engage in the product and envision themselves owning it. Customers can evaluate details, ask questions, and be confident when deciding to purchase.
Secondly, but certainly not less important, is the "Request a Watch" element, that will be active for select users during this seven day sale. This feature allows for aggregation of any user's searches for specific watches, as it creates individualized customer experiences for all those looking to purchase a luxury watch. If Phigora does not have the specific watch a customer is looking for in stock, use of this feature allows the team to source, find, and acquire it. Phigora has a large network of dealers and collectors from which to do so.
In addition to the week long sale, Phigora will have a special, no reserve auction of 3 watches that will be featured via Facebook Live. The live preview will be held on Monday, November 21, at 3:30 pm ET. Private bids on these watches will be accepted all week long, and the auction will end on Cyber Monday at 11:50 pm.
As the development of the new site suggests, clientele always come first in Phigora's eyes. "We want to provide the best customer experience in the secondhand luxury watch market. Shop our curated selection of brands, view a watch live before your purchase, and be confident in your purchase; it's backed by an authenticity guarantee and a one year warranty," said Phigora co-owner, George Fatakhov.
To cash in on these great deals, and take advantage of the bounties of luxury items Phigora has to offer, be sure to check out the website and participate in the sale all week long between November 21st and November 28th. Happy Shopping!